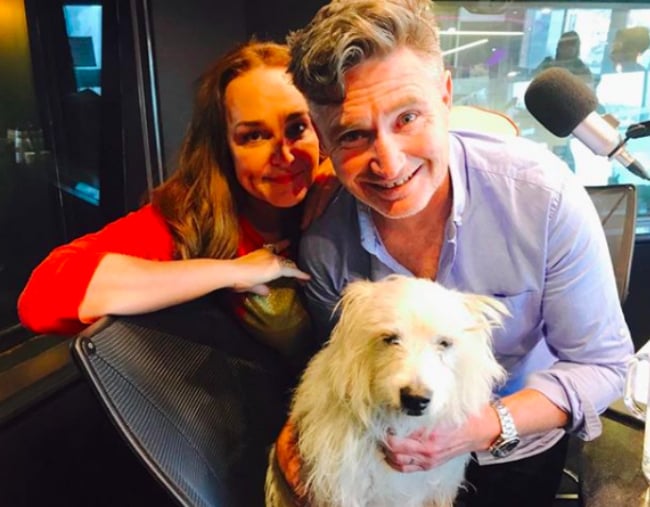 1. Dave Hughes and Kate Langbroek's insanely beautiful act of generosity for their coworker.
Dave Hughes and Kate Langbroek are one of the most successful radio duos in Australia right now.
But according to their long-time producer, all that praise and fame that comes with being on top hasn't gone to their heads. Rather than demanding gold plated microphones, the Hughesy and Kate co-hosts might just be the most generous bosses ever.
Radio host Kate Langbroek made headlines when she said sleeping with a married man is a shitty thing to do. But isn't she right? Post continues after audio.
Speaking to News.com.au, their executive producer Sacha French – who joined Hughesy and Kate when they first started on Nova in 2001 – said her bosses paid off her very large university debt.
$80,000 worth, to be precise.
"It was so overwhelming and unexpected. I told Kate about it early last year because I thought it could be good content because loads of New Zealanders I'd met aren't paying their loans and they're not allowed to go home to New Zealand because of the student loans," the New Zealand-born radio producer said.
According to French, Hughesy and Kate called her into the studio live on-air on her birthday last year. But rather than getting the sack (which is what one's mind races to when their bosses call them into a meeting unexpectedly), they presented her with the bloody big cheque.
"They'd written me this beautiful card which made me cry … and then they told me they were going to pay off my student loan. They paid off the $80,000. I can't say thank you enough because I never thought I'd be able to pay that off. It was amazing."
Well then. Excuse us while we CC our bosses into this story.
2. Alessandra Ambrosio has split from her fiancé of 10 years.
Supermodel Alessandra Ambrosio has split from her fiancé of 10 years Jamie Mazur, Us Weekly reports.
The couple, who got engaged in 2008, have two children together; Anja Louise, who is nine and son Noah Phoenix, five.
Rumours have been swirling regarding the state of their relationship, after Mazur was notably absent from his partner's side at the Super Bowl.
In 2016, she told Cosmopolitan marriage was not a priority.
"If I have been engaged to him for eight years, then it's not my priority. I have a lot of things going on, and I haven't got married because I'm so busy. I'll think about that when I have time off."
3. Kochie named his worst ever Sunrise interview and we care because... well, we're not sure why.
After 16 years at the helm of Australia's most popular breakfast program, David Koch has interviewed just about everyone there is to interview.
Now, in... you guessed it... an interview with news.com.au, he has named the most difficult celebrity of all time.
"Kramer from Seinfeld was just a nightmare to interview," he said, telling the publication he kept going in and out of character.
"So you'd feed him a line to be funny and he'd answer in this mad 'Michael Richards' way, so you'd go, 'OK, he's Michael, we'll talk about him and be a bit more serious' ... Then he'd answer like Kramer. It was weird. I think he was the hardest interview ever."
4. And with a click of her fingers, Rihanna makes Snapchat's value plummet $800 million.
If Snapchat goes under anytime soon, they'll have a host of celebrities (and a few dumb decisions) to thank.
On Wednesday, Rihanna slammed the platform for hosting an ad that asked users if they'd rather "slap Rihanna" or "punch Chris Brown."
As a result, the social media giant lost $800 million in market value on Thursday after she made her thoughts public.
"I'm just trying to figure out what the point was with this mess!" she posted to her Instagram story, alongside a screenshot of the 'challenge'.
"I'd love to call it ignorance but I know you aren't that dumb. You spent money to animate something that would intentionally bring shame to DV victims and made a joke of it.
"This isn't about my personal feelings, cause I don't have much of them... but all the women, children and men that have been victims of DV in the past and especially the ones who haven't made it out yet... You let us down!"
Snapchat apologised but evidently, too little, too late.
5. Everyone's talking about Zayn Malik's break-up tattoo… for all the wrong reasons.

Zayn Malik isn't messing around when it comes to getting over his recent break-up with model Gigi Hadid, launching himself into a new relationship with a… rose… on the back of his neck.
Ah. Yeah.
Malik, who announced his split from Hadid earlier this week, posted on Instagram on Saturday a photo of the back of his head where a giant rose snaked its way down his neck.
These three comments, left in the comments section, sum up his fanbase's reaction more eloquently than we could:
"Where are the leaves?"
"Quelle horreur."
"It looks like a rattail."
For more on this story, click here.
Want to win some skin care goodies? Like to have your opinion heard? Take our short survey now for your chance to a win a skin care pack.
Shout out to all Dads! Here at Mamamia we are always looking for ways to make Mamamia even better. Dads, we need you to help us do that by filling out this quick 15 min survey for us. Click the button below for your say.