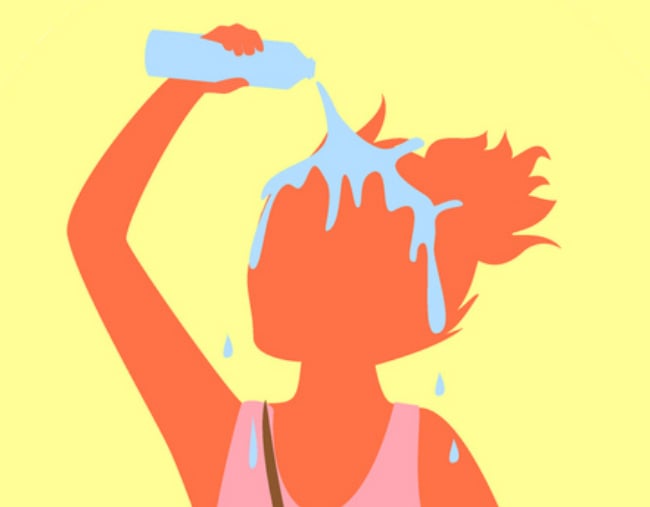 Fact: Every human being walking this earth sweats sometimes.
A trickle down the back of your leg standing on the train. In the crease of your elbow after holding your handbag for a really long time. Under and between your boobs most of the time.
And just about everywhere – pits, lower back, under your eyes, between your thighs – on a hot day.
Sure, it's annoying and makes you feel self-conscious and damp, but a good 20 minutes in front of a fan or some paper towel in the bathroom normally does the trick.
But what about when sweating, and trying not to sweat, consumes your day, everyday? When long after your co-workers have dried off from their commute, you're sitting at your desk feeling like you've run a marathon when you definitely haven't?
That kind of sweating can be classified as a genuine medical condition called hyperhidrosis, otherwise known as excessive sweating. And it's treatable.
So how do you find out if you're 'just a sweaty person', or have this medical condition?
Because the idea of talking about your sweating is a bit embarrassing, we asked experts to explain everything you need to know if you think you might have hyperhidrosis.
What is hyperhidrosis?
Hyperhidrosis is the medical term for excessive sweating. It occurs when overactive sweat glands release a volume of sweat that is significantly more than your body's normal requirements for cooling.
Specialist consultant dermatologist Dr Mei-Heng Tan said this occurs when the sweat glands of certain pre-disposed individuals "can't really stop producing sweat".
"Hyperhidrosis is an excessive production of sweat that can be triggered by anxiety, stress, heat or on its own, or it can be secondary to an underlying medical condition or medication," she told Mamamia.
"If you suffer from pre-disposed hyperhidrosis, you may start [experiencing symptoms] in childhood or adolescence. Up to two-thirds of people with this condition have a family history of it and there's often hereditary predisposition to it, but not always or in all cases. If you have excessive sweating due to an underlying medical condition or medication, this will develop later on in adulthood."
There are also different types of hyperhidrosis.