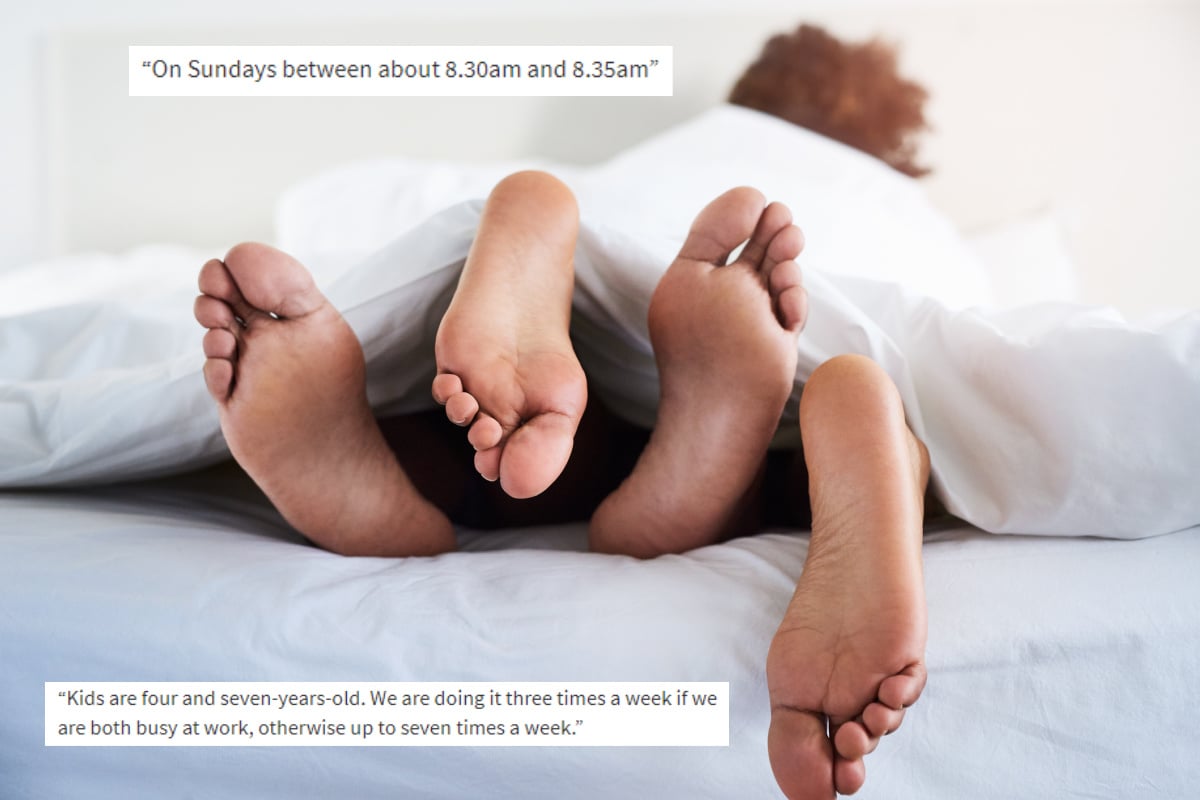 When you become a parent, there are plenty of exciting new things that your new little one brings into your life. However, there are just as many things from your child-free life prior, that get somewhat… neglected. Chances are, that includes sex.
Kids are all-consuming, we know that.
But sex is important for any healthy relationship.
WATCH: How to have better sex. Post continues below.

So, Mamamia spoke to a bunch of parents with kids of varying ages to see exactly how often they are getting intimate.
From multiple times a week to absolutely never, 21 parents share exactly how much sex they have a week.
1. Once a week.
"We do it once a week and on Sundays between about 8.30am and 8.35am."
2. About every three weeks.
"I have a three-year-old and an 18-month-old. We both sleep in separate beds with one kid each and I'm still breastfeeding. I forget sex exists. Around every three weeks if we are both at home and it's only when the kids are at daycare. Very sad."
3. Once a fortnight.
"I have a two-year-old. We have sex anywhere from twice a week to twice a month. It really depends on the toddler. If he goes down early then we might be able to get a quicky in more often. If he has left a big mess during the day that takes priority then we fall into bed too tired."
4. Once a year.
"My kids are five and two. I co-sleep with the youngest and he sleeps in another room so that's a barrier to workaround! Last week was the first time we'd had sex all year.
"We make up for it by going away for the weekend every few months. Just us time! We're both happy – just busy and tired! Both work full time and have the household to run. It happens when it happens."
5. Never.
"I stopped enjoying sex six years ago. It does nothing for me and my sex drive is zero these days. I do everything I can to avoid it and I wouldn't care if I never have sex again! I have two kids ages 10 and eight. I should add that my husband has given up asking because he knows I'll say no."
6. Once a week.
"We have two kids – 13 months and two-and-a-half. Once a week is normal for us. Occasionally it will be a good week and we get three in but that's rare.
"Our biggest hurdles are absolute exhaustion and also not wanting to be touched after having two kids hanging off me non stop all day long. I just don't want to be touched. I want to go to bed and read and not talk."