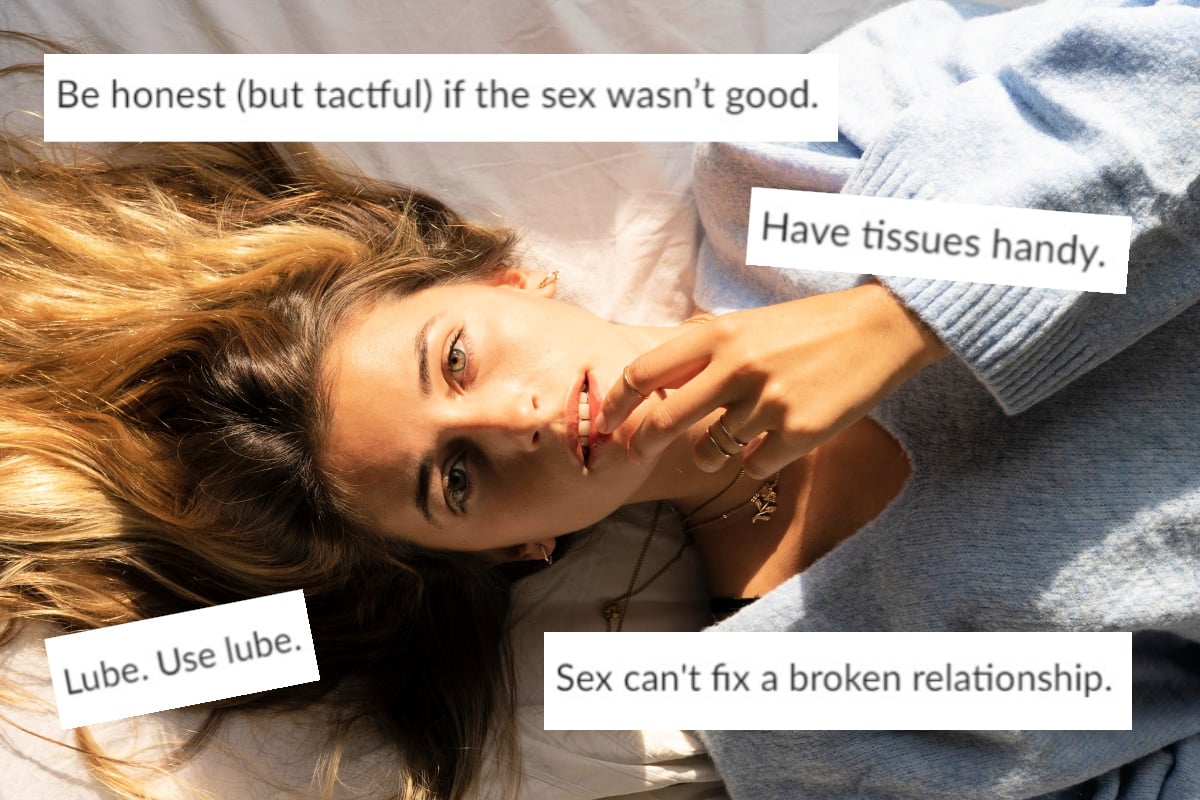 Fact: Life is too short not to have good sex. But how do you know if the sex you're having is good sex?
Many would say not having orgasms is a pretty great indicator, but the thing about sex is: no one really talks about it. Or, at least, not in a meaningful way.
Side note – here's a helpful and hilarious explainer on consent over a three course meal. Post continues after video.
We're quick to seek out helpful, trustworthy advice when we need it in other areas of our lives, like work, beauty or finance. So, why not do the same for sex?
To kick things off, we asked a whole bunch of women for the piece of sex advice they'd give to their younger selves.
From not faking orgasms and having good communication, to exactly which type of vibrator you ought to buy (thank us later), here are 35 excellent nuggets of sex advice wisdom to tuck away for the next time you might need them.
You can also get some great sex advice from the hosts of Mamamia's Overshare podcast. Get it in your ears below, post continues after audio.
1. "Stop trying to impress men by being so enthusiastic about giving blowjobs and concentrate on your own orgasms."
2. "Sex shouldn't stop when the man is done. If it does, there needs to be a re-ordering of events."
3. "Find a good doctor and SPEAK UP!!! I had painful sex for years because I just assumed that was how it was meant to feel."
4. "Don't fake orgasms. You are doing a disservice to yourself and women everywhere."
5. "To my 19-year-old self: going off the pill before backpacking through Europe is a terrible idea."
6. "Carry condoms, always be prepared. Safe sex is good sex. Don't let anyone try to convince you differently. I used to feel like a "slut" for having condoms in my handbag. Now, it's just like popping my lipstick in there."
7. "NEVER feel peer-pressured into losing your virginity. Do it when you're ready – f*ck (not literally) any guy that says otherwise."
8. "Have sex with all of the people because little do you know, you're going to get into a long term relationship at the age of 16 and wonder what else is out there."
9. "Don't let people label you. Having a girlfriend doesn't mean you are a lesbian, just as dating a man doesn't make you straight."
10. "Pee after sex EVERY TIME to avoid UTIs!"
11. "Get educated and follow good sex positive people on Instagram because the sex education at school isn't good enough."