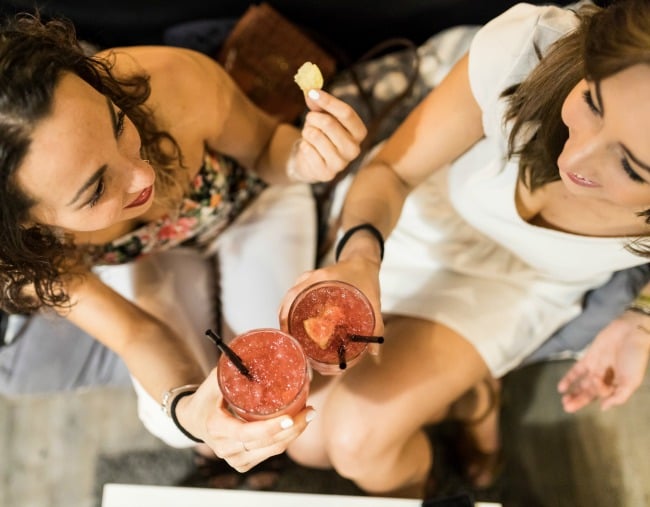 How many standard drinks do you have each week?
According to triple j's 2018 What's Up In Your World survey of Australian millennials, 39 per cent of young Australians are drinking less than they were in the last year.
But it's not always the case.
While some millennials are turning away from alcohol and drinking less this year, for others, it can reach upwards of 20 or 30 drinks in just one week.
Speaking on Edge 96.1's breakfast radio show Mike E and Emma yesterday, host Mike E shared that he drinks roughly 33 drinks a week.
"Thursday night I always go out for dinner with my parents, so I'll probably have three then," the radio host admitted.
"And then, if I'm being honest, Friday and Saturday night can be between 10 and 15 drinks."
We spoke to 18 Mamamia readers to find out exactly how many drinks they have per week and why.
Here's what they had to say:
Kate, 19
Kate drinks around eight drinks a week, mainly on a Saturday night. Her prime objective? To get drunk.
Emma, 30
Emma only drinks if she's out for dinner with friends or family.
On average, she drinks around five standard drinks a week and while she doesn't anymore, she has in the past consumed alcohol purely to get drunk.
Steph, 23
Steph drinks on average 10 standard drinks per week, predominately on a Friday night. She likes to drink socially and to "relax".
Annalise, 28
This 28-year-old has an average of 10 drinks per week.
Her main reason for having a drink or two is that it makes her feel "a little looser in social situations".
Mollie, 21
Mollie has an average of 30 drinks per week, and likes to drink to have fun with her friends.