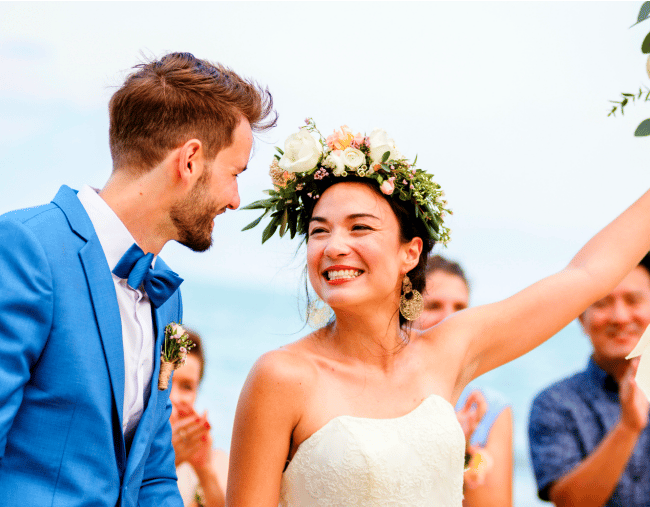 You know how some girls have designed their wedding dress in their head, tentatively booked their dream wedding venue, and picked out their engagement ring – all before their partner has popped the question?
Yeah, I'm not one of those girls.
My husband Ben proposed to me at 4:30am after tricking me to get up for a sunrise hike, which are two words I strongly believe shouldn't be in the same sentence. I sat on the edge of the bed in a towel staring at the carpet for what seemed like a bit too long, until he finally asked, "so… will you, or…?" He proposed with a funny poem, and an appointment at a tattoo shop, where we could get matching ink rings that would never come off even if we changed our minds.
It's for these reasons, that I knew our wedding was going to be anything but traditional.
Our brief was '70s-inspired tropical Palm Springs pool party in the middle of Byron Bay, heavy on the tequila. During the two-year planning process, I had a series of mild nervous breakdowns – and not just because weddings are stressful and expensive.
When I shared some of my unconventional ideas with nice people I'd randomly meet in shops, their reactions suggested I should maybe rethink those ideas, and I felt like society had placed all these restraints on me to plan the same cookie-cutter wedding. Do you know how hard it is to find a pair of bridal shoes that cream, satin and hideous?
At one crucial point, I made the very grown-up decision to tell everyone to shut-up. This was my wedding, and I would have gold platform disco shoes if I wanted.
It worked, and I ended up having the wedding of my dreams, that was just so us. So in the spirit of brides helping brides, here are seven things that got me there.
Tip 1 : From the minute you're engaged, don't listen to anyone.
Friends and family will be calling you to pass on their congratulations, and that's lovely, but they'll also be asking you when the wedding is and where they should stay and when you'll be having a baby.
This is called Unnecessary Stress and you don't need it in your life right now. When the planning is in full swing, the well wishes will turn into unsolicited advice and concerned looks about all of your choices.