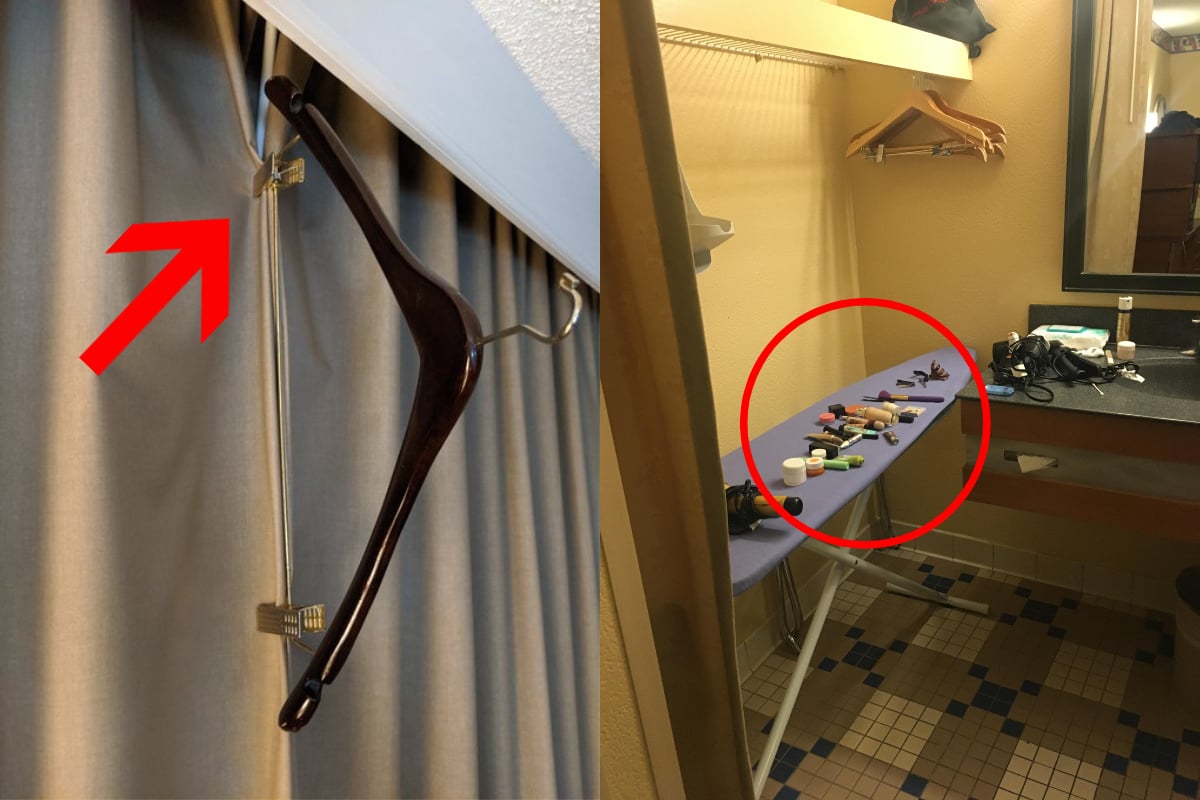 Don't get us wrong, hotels are great.
Concierge and room service are a phone call away, and there is absolutely no reason to tend to any of the usual domestic duties that you would at home. But, we can't help but be reminded that hotel rooms just don't compare to the comfort of your own space (especially, your bed).
That's why we scoured the internet and asked the Mamamia office for their best travel hacks that will improve your hotel stay, that much more.
1. Use a

coat-hanger

 to create blackout blinds.
There is nothing worse than that small bit of light peeping through the blinds, waking you from a peaceful sleep. However, thanks to this Twitter post resurfacing, it can easily be avoided.
Best hotel hack I've picked up, when travelling abroad, rather than take loads of (2/3-pin) adaptors, take one and an extension lead. Especially useful travelling as a group – one plug where everyone can charge their phones #hotelhacks

— Dr Stuart Pugh (@StuartP2305) October 4, 2019
2. Pack a power board and one adapter to charge everything in one place.
Need to charge your phone, laptop, tablet and camera? No worries.
My favourite business travel hack – bring a small multi-plug extension cable.

You only need to remember one adaptor and hotels never have enough sockets in the right places.

It's made my last few trips so much better. pic.twitter.com/pIKN73RVUP

— Ric Rodriguez (@RicRodriguez_UK) August 24, 2019
3. Always mention when it's a special occasion.
Is it your birthday or anniversary soon?
No matter the occasion, always make sure to mention it when booking your room. Hotels want to provide the best experience for their guests, meaning more often than not, they will congratulate you with something free. Whether it's nibbles on arrival, a bottle or champagne or maybe a generous upgrade, who doesn't love a nice treat at the start of a hotel stay?