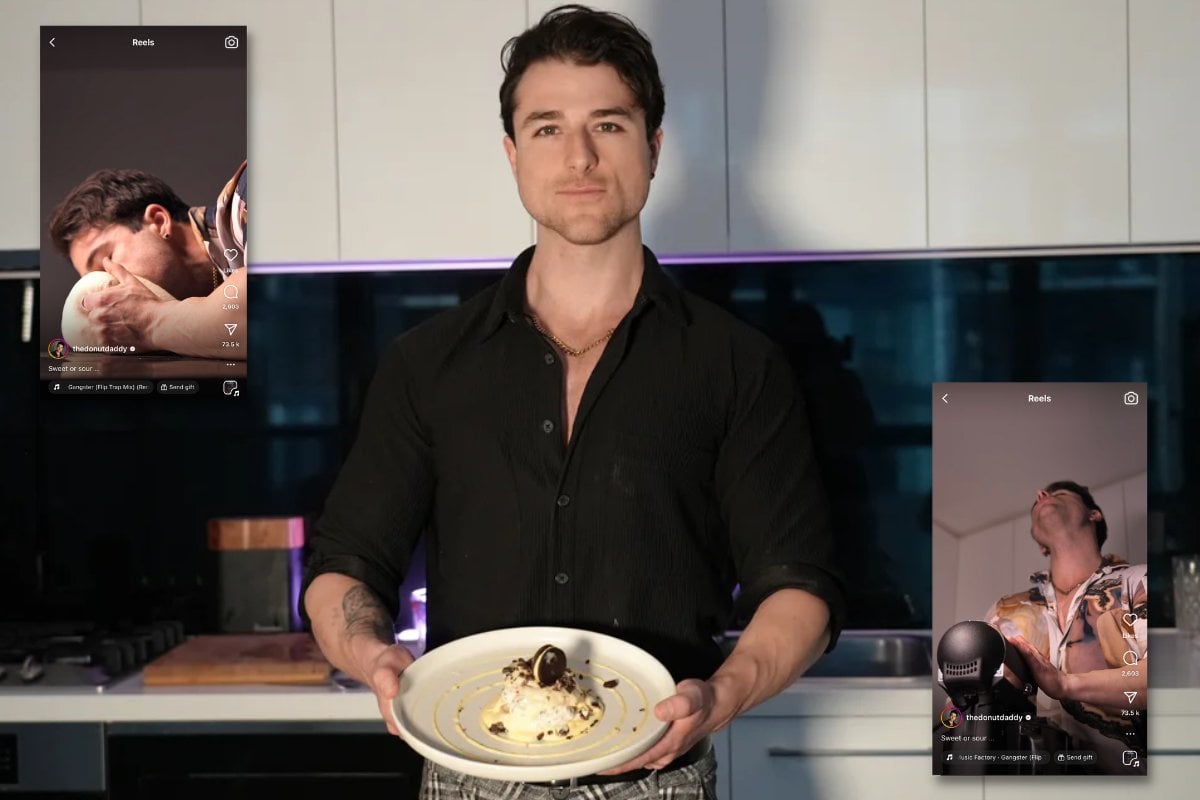 It might be because of Jeremy Allen White in The Bear, or because these shirtless men are suggestively tonguing and fingering their foodie creations for their thirsty social media audience, but the Hot Chefs of Instagram are taking over the world.
And one of the men leading the pack is Aussie Donut Daddy (@thedonutdaddy).
With 300K followers on Instagram and 2.1 million likes on TikTok, the Melbourne-based doughnut maker already has some major fans overseas with articles written about him in Forbes and The Cut (the latter is actually how I first came across him and decided to investigate further).
Now, at first look at Mr Daddy's social media feed, his content comes across as the kind of food porn we've all come to love and expect: there are beautifully shot photos of a golden croquembouche tower, chocolate souffle with Lotus Biscoff ice-cream and a lime pie doughnut.
But once those reels start, it all changes.
Look, there he is in the kitchen (an obvious place to find a culinary aficionado) but… why is he unbuttoning his shirt?
Oh! He's getting off to a mixer. Wait, did he just jerk off some dough? Yep, I guess he did and now he's holding that dough down with his veiny, muscle-y arms, and slapping it like he's on the set of an actual porno and not showing us how to make a lemon meringue doughnut.
Now, he's gently, but briskly, fingering some kind of egg mixture. Oh phew, he's frying his creations, and this part looks like an actual cooking video. But wait – he's slowing down all those fast cuts to get the money shot…
... and there it is! He's poked a hole in a doughnut and the meringue is oozing out in slow motion.