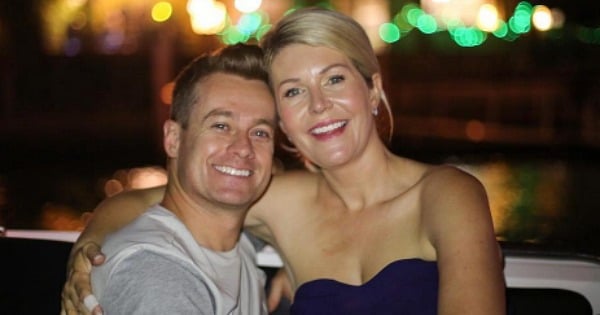 Television presenter Grant Denyer has spoken about finding out his game show Family Feud was cancelled.
On May 8, it was confirmed that after four years on the air and 1200 episodes, Grant's game show would be cancelled.
"It's a difficult one, to be honest,"Grant told Stellar Magazine in an interview published on Sunday. "When it's time to wave goodbye to your baby, it's emotional."
"Normally these things can knock me around a bit and I'm prone to a little cry here and there. But I'm handling it well so far."
Speaking to Stellar, the 40-year-old ex-motor racing driver admitted that the network's decision to thrash the now-defunct show by airing it twice a day, six times a week, was a mistake.
"I knew at the time it would shorten its shelf life and that's exactly what happened. One of the keys to success in show business is 'leave them wanting more' – and we gave them too much," he said.
On May 27, it was announced that Grant was nominated for two Logies – the Gold Logie and Most Popular Presenter for his role on Family Feud – a nomination which has raised eyebrows, given Family Feud has been canned.
"Absolutely blown away to be nominated for Gold Logie. Now [if only] I still had a show to promote,"Grant joked on social media.
Grant and his wife Cheryl, known as Chezzi also spoke to Stellar about their lives together.
After Grant broke his back driving in a monster truck rally in 2008, he dealt with severe health problems for many years.
"People don't know the whole behind-the-scenes," Chezzi told Stellar.
"Grant had severe stomach problems that made him incredibly unwell. We didn't know if he would survive. It's not terribly sexy, but he had a condition called slow transit constipation… We really pushed the envelope. We kind of thought we were invincible."
Chezzi was also dealing with personal health problems at the time.
After the birth of the couple's first child daughter Sailor in 2011, Chezzi was diagnosed with PTSD, which was brought on by her earlier work as a journalist and the aftermath of Grant's horrific accident.
"When I worked as a journalist, I saw deceased children," she said. "At the time I played it down and got on with the job. Then after Grant had his accident, I thought he was going to die."
She also had an incident where she went into anaphylaxis and suffered two collapsed lungs due to an undiagnosed allergy to sulphur.
"They cut off my shirt and gave me a massive injection of adrenaline. I remember crying to Grant and saying, 'You have to get Sailor to come. I need to see her before I die,'" she said.
The couple now live on a property in Bathurst with their daughters Sailor and Scout.
Grant will soon be stepping into another game show hosting role – he's set to be the host of Ellen DeGeneres' new Australian game show, Game of Games.