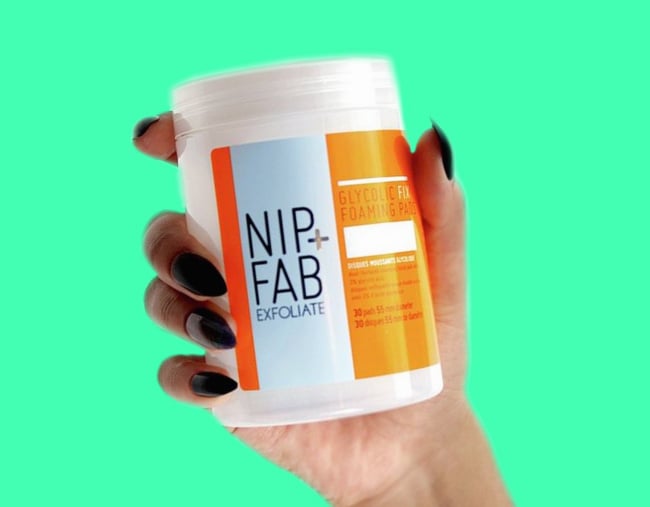 Look to your left. See your co-worker over there with the annoyingly good skin?
And the women who always look like the picture of health and wellness you know for a fact eat Maccas and might smoke a cigarette on the weekends?
They're probably putting acid on their faces. Glycolic acid, that is.
If you're still using an exfoliating scrub with little bits in it, it's time to catch up and get on the chemical exfoliation train to glowy, radiant skin.
But… why am I putting actual acid on my face again, you ask? Don't worry, it's not a dumb question at all.
That's why we asked a dermatologist to unpack exactly why you need to start putting glycolic acid on your face. And exactly how.
What is glycolic acid?
Think of glycolic acid as the chief of Alpha Hydroxy Acids. They're commonly labelled on lotions and potions as AHAs.
"Specifically, glycolic acid is an AHA primarily found in sugar cane. It's a small crystal that is dissolved into a gel or liquid to be applied to the skin and is favoured for it's water-binding properties and small molecular structure, which can easily penetrate into the skin's surface and do all the things," dermatologist Dr Liz Dawes-Higgs told Mamamia.
What does glycolic acid do for your skin?
Put simply, it makes your skin glow.
As for how, Dr Dawes-Higgs likens glycolic acid exfoliation to "removing the 'glue' that holds dead skin together."
It's not nearly as gross as that sounds though.
Specifically, she explained exactly how the acid works to give you that coveted 'I drink eight glasses of water a day' glow.
"Glycolic acid is a peeling agent, a superficial chemical peel, that works on the top layer of the skin to remove the dead cells. This helps to freshen the appearance of skin by evening out skin texture and colour making the skin look brighter or healthier in appearance," she said.
"When applied to the skin, AHAs work by removing the top layers of dead skin cells. They can also increase the thickness of deeper layers of skin, promoting firmness."
Aside from it's knack for cleaning out the gunk in your skin cells that can cause blackheads and whiteheads (shudder), glycolic acid also dabbles in anti-ageing by treating fine lines and overall skin texture.