The Ordinary first burst on to my radar late last year. Appearing to come out of nowhere, the brand were getting unprecedented genuine and positive reviews from what seemed like the entire beauty community.
Beauty journalist Sali Hughes devoted her entire column to the range (a rare occurrence) and it was soon getting the skincare awards traditionally reserved for the luxury brands.
In June this year, makeup giant Estee Lauder announced its investment in The Ordinary's parent company, Deciem.
It's big stuff. But does it genuinely live up to the hype?
Described as a "disrupter" to the beauty industry, the premise of The Ordinary is simple. It strips away all the fancy packaging, marketing jargon and filler ingredients you might find elsewhere to give you simple products full of only the stuff that actually works. This is why they're able to have products that include active skincare ingredients like Vitamin A, Lactic Acid and retinol that usually come with a reasonably high price tag at half the price.
Most of the range costs less than $20, with many even sitting under the $10 mark.
As someone who's skin gets seriously dry in winter, I decided to start with their Hyaluronic Acid 2% + B5 serum, $12.90.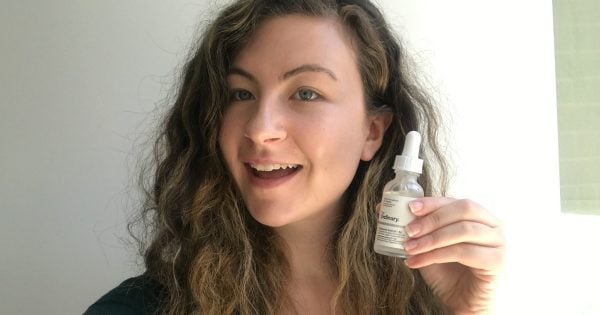 Hyaluronic Acid can hold up to 1,000 times its weight in water, so it's great for hydrating skin and leaving it looking a lot more plump. The selling point of The Ordinary's offering is that the formula includes the acid in a range of different molecule sizes which allows it to penetrate the skin deeper.
I'll be honest, I don't overly love the feel of this as it does feel quite sticky on the skin, but I really have noticed a difference in my skin. It's one of those products that's great for impatient people as the results are almost instantaneous. Skin looks and feels less bleurgh and more healthy and 'alive', if that's such a thing (well, it is now).
I always apply at night as it's too sticky to apply makeup on top of and use it after cleanser and before cream.
Fast and visible results are a common theme from others I've spoken to who have used the range. I've heard great things about the Niacinamide 10% + Zinc 1%, $9.90, for reducing blemishes and congestion, Retinol 1% in Squalane, $11.86, for wrinkles and fine lines and the Vitamin C Suspension 23% and HA Spheres 2%, $9.80, for brightening the skin.
There's no doubt that The Ordinary is anything but, making previously expensive skincare ingredients much more accessible. Vegan and cruelty free, you can purchase the range online as well as at ASOS, Priceline and Adore Beauty.
However... yes, there is a however.
It's not exactly beginner friendly. I spent a good hour or so researching reviews and blogs to determine which product best suited my needs. While there are some helpful guides on The Ordinary's website, the actual products are very scientific and a little confusing, with little explanation as to what they'll actually do (although they do have directions for us). It would be hard to see them for the first time and pick them straight off the shelf.
If you haven't used some of the stronger active ingredients before (e.g retinoid, a great anti-ageing ingredient or lactic acid) you also run the risk of going too hard too fast. With some of these, you might have to ease in and work up to a full dose, although that's not specific to this brand.
As each product focuses on one key ingredient, if you do have multiple concerns you want to address (e.g dullness and dryness) you'd have to mix and match your products. Still, this would probably cost less than buying one product that addresses both. They do warn though not to mix more than three otherwise you can overload your skin.
Listen: Zoe Foster Blake shares her best skincare secrets. Post continues after audio.

Keep in mind as well that these skincare products don't smell amazing nor in some cases, feel amazing. This is actually a good thing, if you can remain unbothered by it. That's because they're kept as simple yet balanced as possible and no fragrance is added to mask anything. They come as they are.
For the results and the price, The Ordinary really is worth the hype. I do think the extra research before purchase is necessary but it pays off. While the price may be low, don't go crazy at first - pick one or two, trial and then if you like what you see, go back for more.
The only real problem with welcoming The Ordinary into your bathroom cupboard? You'll probably feel a little more than resentful if you ever pay top dollar for other skincare brands in the future!