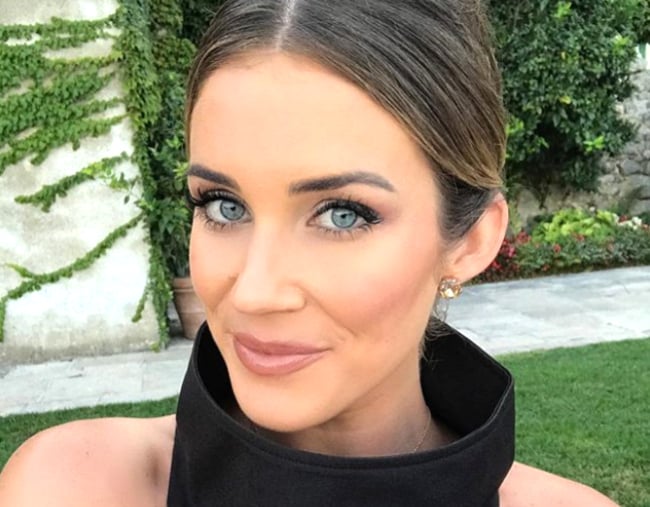 The 2016 pre-Bachelorette version of Georgia Love would honestly piss herself laughing at the thought of running a half marathon. Or any kind of marathon. Or running.
The now-29-year-old had always been a generally fit person through dancing and her lifestyle, but she'd never gone to the gym or 'trained'.
"I certainly wasn't ever a gym person, it sounded like my worst nightmare," the Network Ten journalist told Mamamia.
"When people would talk about being fit and going to F45, I used to think, 'that's great for you but it's just not me', but now I'm the one saying, 'no, but really'."
You might've scrolled through the former reality TV star's Instagram feed recently and thought, gee, she's looking pretty fit these days. And she is, but not because she wanted to look a certain way or felt like she 'had' to as a part of her job in the public eye.
For Georgia, making a conscious decision to exercise more was about taking care of her mental health, which took a battering after losing her mum Belinda to pancreatic cancer just 24 hours after the 2016 The Bachelorette finale aired.
Georgia also spoke to Mia Freedman shortly after The Bachelorette in an honest and raw conversation about losing her mum. Post continues after video.
"After my mum passed away and I finished [The Bachelorette], I had so much scrutiny from the media and public, I wasn't working full time which got me down and I was upset about that, at the same time adjusting to this strange new life… I really wasn't in a good place mentally," she said.
"That's because so much happened and changed in my life, all in one go. I'll never know whether it was the comedown and the pressure post-show, losing my mum, moving interstate, being unemployed… I'll never know which one of those things hurt me more than the other because I had them all at once. Any one of those things would really mess with someone's head, and I had them all. I was in a pretty bad place for a while."
Georgia said having her partner and winner of her season of The Bachelorette Lee Elliot and a group of very close friends helped her get through that time in some ways, but finding a routine through exercise is what pushed her forward.
"I needed some way of clearing my head [at that time], I found that through exercise. I wasn't working a regular job or hours then, so having a routine and getting up at the same time everyday, whether it was going to F45 or Pilates, just doing something and having a routine was the best thing for my mental health," she said.
"I've changed a lot mentally over the last few years, I put a lot more time into myself. I know that's a bit of a trend at the moment, mindfulness and looking after your head space, but I'm really appreciative the trend came at a time when in my life I felt like I really needed it. It's certainly helped me."