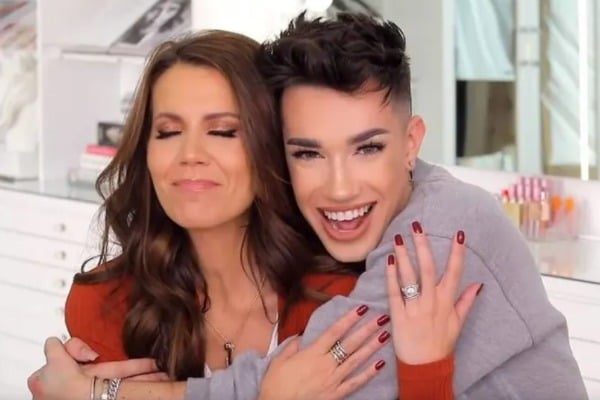 Over the weekend, the entirety of the internet watched as a friendship exploded into smithereens.
Well, the population of the world who weren't looking at their phones with a furrowed brow yelling WHAT IS A JAMES CHARLES AND A TATI WESTBROOK!?
Basically, they're two big-shot beauty bloggers made famous on YouTube. Charles has modelled for Covergirl, and even scored a coveted spot on the Met Gala guest list last week. Westbrook is a veteran makeup artist and YouTube beauty scene stalwart. She's also Charles' mentor (well… she was).
The two types of "work wives". Post continues after video.
Westbrook publicly "cancelled" her friendship with Charles over the weekend after he posted a paid sponsorship post with a sleep vitamin company on Instagram that Westbrook is in direct competition with.
In a 42-minute long video, she claimed she and her husband have supported Charles' career for years, but she is now tired of making justifications for his behaviour, including recent problematic comments he allegedly made about wanting to have sex with a straight waiter at a restaurant regardless of his orientation.
Charles subsequently lost around 2 million followers despite posting an apology, and now a whole bunch of other celebs are jumping on board the James Charles hate train, fuelling the allegations of his predatory behaviour towards straight men.
Meanwhile, Tati Westbrook has gained over 1.5 million YouTube subscribers.
Phew.
It's a lot.
While many of us might not be as invested as the rest of the world, the situation has made us ponder our own messy friend breakups. Sadly, a situation many of us have been through.
Breaking up with a friend can be as traumatic as ending a romantic relationship. Sometimes even more so.
It's an experience that can leave you feeling betrayed, insecure, utterly isolated and in some situations, deeply depressed. If the friendship is toxic – its end is often necessary for your own mental health and well-being. Sometimes, it can come seemingly out of nowhere, leaving you confused and in shock.
Here, 7 women share their most horrific experiences of friendships breaking down.
While none of them resulted in a highly-publicised internet feud, they're just as intense and life-altering:
Claire
My best friend in high school sat me and a few friends down at school one day and told us she had leukemia and had to start chemotherapy.