1. This is what "the next chapter" looks like for The Block's Josh and Elyse.
How does one celebrate scooping up first place on The Block, and selling two houses for a combined $4.798 million all in the space of a month?
Well, if you're Elyse Knowles and Josh Barker, you pack your life up and go on a camping getaway to relax, refresh, and restart.
"We'll go camping before starting a new chapter of our lives," Knowles told Courier Mail, adding: "[Then] we'll look for another reno, an ugly duckling, where we can showcase our ideas…"
Not bad for a couple of young millennials, now is it? *weeps into desk/depleted bank account/haunting abyss of HECS debt*
Since setting up comedian Dave Hughes with his latest property, the – let's be real – freakishly good looking couple only just last week sold their home of three years in Melbourne's Coburg, scraping a one-million-dollar profit (they purchased the fixer upper at $600,000).
"We've gone from two houses to none," joked Knowles.
Welcome to being a regular 24-year-old, Elyse! Welcome.
2. So we can all agree that Stuphie ARE together? Right? … Guys?
WE HAVE AN ABSOLUTELY UNIMPORTANT STUPHIE UPDATE.
So yesterday it was all about Sophie and Stu's mega airport PDA. Today? The Bachelorette couple are celebrating Stu's 45th birthday together and you better bloody believe the fans are reading into every minute detail of every minute development.
We mean, they're TOGETHER. For his BIRTHDAY. In Sophie's INSTAGRAM STORY. And her caption included LOVE HEARTS.
See?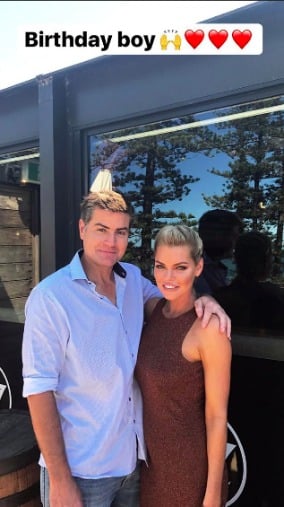 An Insta story upload is hardly the commitment of a normal upload - it does vanish into the abyss after 24 hours, after all - but we'll take what we can get.
Meanwhile, over in Sophie's comments section, @mcdougallsophie asks: "Are you still with Stu?"
For now? Yes. It appears that Stuphie are 'on'.
3. Kim Kardashian has pocketed $14 million... from a perfume that nobody's even smelt yet.
Kim Kardashian has proved she's a busy lady.
When the 37-year-old makeup mogul wasn't doing her makeup line, filming Keeping Up With The Kardashians, having babies or modifying her apps, the mum-of-two was behind the scenes whipping up her next product to conquer another industry.