1. This is what "the next chapter" looks like for The Block's Josh and Elyse.
How does one celebrate scooping up first place on The Block, and selling two houses for a combined $4.798 million all in the space of a month?
Well, if you're Elyse Knowles and Josh Barker, you pack your life up and go on a camping getaway to relax, refresh, and restart.
"We'll go camping before starting a new chapter of our lives," Knowles told Courier Mail, adding: "[Then] we'll look for another reno, an ugly duckling, where we can showcase our ideas…"
Not bad for a couple of young millennials, now is it? *weeps into desk/depleted bank account/haunting abyss of HECS debt*
Since setting up comedian Dave Hughes with his latest property, the – let's be real – freakishly good looking couple only just last week sold their home of three years in Melbourne's Coburg, scraping a one-million-dollar profit (they purchased the fixer upper at $600,000).
"We've gone from two houses to none," joked Knowles.
Welcome to being a regular 24-year-old, Elyse! Welcome.
2. So we can all agree that Stuphie ARE together? Right? … Guys?
WE HAVE AN ABSOLUTELY UNIMPORTANT STUPHIE UPDATE.
So yesterday it was all about Sophie and Stu's mega airport PDA. Today? The Bachelorette couple are celebrating Stu's 45th birthday together and you better bloody believe the fans are reading into every minute detail of every minute development.
We mean, they're TOGETHER. For his BIRTHDAY. In Sophie's INSTAGRAM STORY. And her caption included LOVE HEARTS.
See?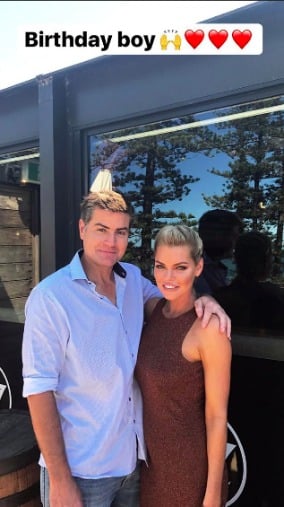 An Insta story upload is hardly the commitment of a normal upload - it does vanish into the abyss after 24 hours, after all - but we'll take what we can get.
Meanwhile, over in Sophie's comments section, @mcdougallsophie asks: "Are you still with Stu?"
For now? Yes. It appears that Stuphie are 'on'.
3. Kim Kardashian has pocketed $14 million... from a perfume that nobody's even smelt yet.
Kim Kardashian has proved she's a busy lady.
When the 37-year-old makeup mogul wasn't doing her makeup line, filming Keeping Up With The Kardashians, having babies or modifying her apps, the mum-of-two was behind the scenes whipping up her next product to conquer another industry.
Perfume. And guess what? She made $14 million from it in just six days.
$14 MILLION. YOU READ THAT RIGHT. But wait, as always with the Kardashians... there's more.
I mean, they could have paid $35-$60 for something that smells like water. But they probably wouldn't care, because firstly, the bottles are awesome and shaped like crystals, and lastly, it's a Kardashian.
"It's such an honour that you guys trusted me," the reality star posted to her Instagram.
"I know it was so crazy. It was the first time someone really just sold it online and without testers and you know, without really smelling it before."
Don't fret if you feel like you missed out - because apparently things that sell out are suddenly more wanted - there will be an all Kardashian-esque restock soon.
You're still thinking about it, aren't you? $14 MILLION FROM A PERFUME NO ONE HAS SMELT YET?! That, my friends, is what you call the power of Kim Kardashian. Kudos.
4. J-Law and her director partner of one year have split.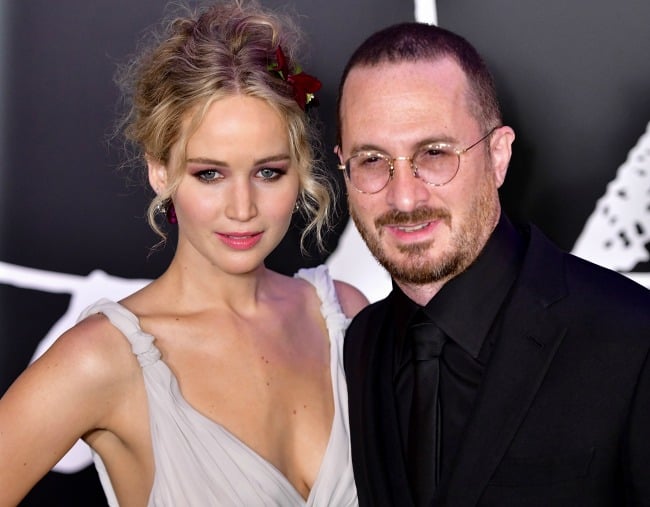 In Hollywood breakup news, we have it on good authority that Jennifer Lawrence and her director boyfriend Darren Aronofsky have split.
The 27-year-old and 48-year-old, who met while filming Mother! and have been dating since October 2016, have broken up, according to a source E! News spoke to.
This source told the website the breakup was "amicable" and the pair are still friends. (How unique and profound.)
In an interview on The Hollywood Reporter's Awards Chatter podcast Lawrence said the pair made it official when filming on their movie finished.
"I had a crush on him when he pitched to me, and that was a year before we started rehearsing. But he was a professional, which only made it worse for me," the actress said.
"We just kind of formed a friendship. He knew how I felt; he never told me how he felt. I mean, I assumed. And then friendship turned into a partnership once we started working. And when the movie was done, I was like, 'Alright, you're my boyfriend'."
Just... probably not anymore.
Too harsh? Never.
5. "This is just pressie #1!" Liam Hemsworth makes boyfriends all over the world look inadequate.
In case you didn't realise, Liam Hemsworth is a gifted gift-giver. Last year he got his girlfriend/fiancée Miley Cyrus a rainbow ring, presented in a beautifully decorated box - complete with stick on unicorns and jewels.
Now? The pesky Aussie actor has made men everywhere look like total crap, gifting his partner with an early birthday present... a taste for what's to come, if you will.
The rainbow-jewelled charm spells out Lili - Miley's nickname for him.
Be prepared, men of the world. Your pain is only just beginning. As Miley said, this is present NUMBER ONE.