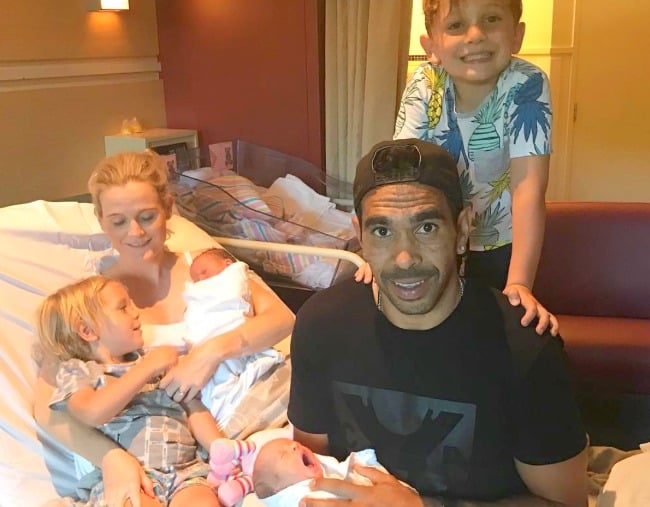 AFL star Eddie Betts has issued an apology to a fan who he refused to take a selfie with when his wife was giving birth.
In a quiet part of a Melbourne hotel lobby, Betts could have been mistaken for just a normal man with his face in his phone, but he was actually on FaceTime with the delivery suite, watching the birth of his twin daughters, Alice and Maggie.
Of course, the fan who approached him for a selfie couldn't have known that, but Betts still felt guilty afterwards for refusing to pose for a photo with him.
"I felt real bad because I was so rude to him, but I was watching (the birth of) my daughters," Eddie told The Advertiser.
"So, whoever that dude is, I'm sorry. But now you know why I said 'no', because my daughters were being born."
Watch Eddie talk about the birth of his twins. Post continues after video.
Betts was in the lobby of the hotel on Saturday morning, preparing for the night's football match, when his wife Anna Scullie called to tell him some very unexpected news: her water had broken and she was in labour.
It was surprising because the couple weren't due to welcome their twins until the end of April. Apparently, the twins had other ideas, and decided they were ready to meet the world right now.
The proud father told Channel 7:
"I was in the hotel and I said, 'What do you want me to do, get on the flight?' And she said, 'No, the doc said they're going to be out in half an hour so you're going to miss it anyway."
Betts and Scullie are already parents to Lewis, 5, and Billy, 2.
The busy couple are also co-founders of natural skincare brand Frankly Co., which specialises in products for mums and babies. They were together for many years before marrying in a surprise wedding disguised as Scullie's 30th birthday party in August 2015.
Fellow AFL star Chris Judd talks about what happened in the birth suite with his wife Bec Judd, and Monique Bowley on Hello Bump: The Pointy End.