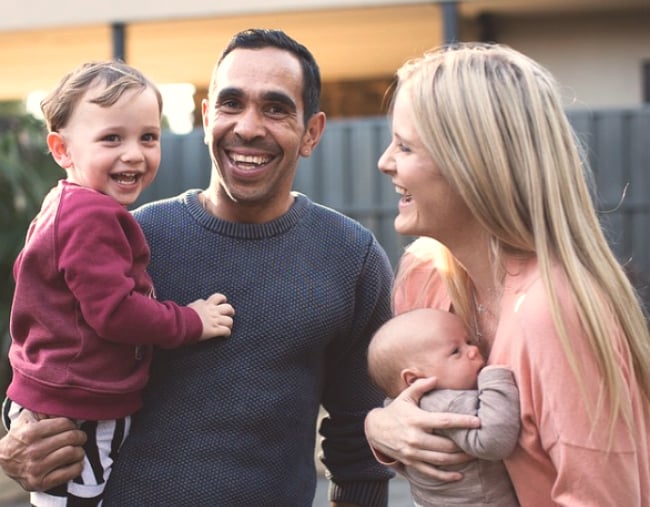 AFL star Eddie Betts was in the lobby of a Melbourne hotel on Saturday morning preparing for the night's football match when he received an unexpected call from his wife Anna Scullie.
Her water had broken.
Although the Adelaide Crows footballer and his partner weren't due to welcome their twins until the end of April, doctors said they were coming now. Not in 12 hours or even two, but now now.
"She rang me this morning and she said, I'm going into labour," the 31-year-old told Channel Seven.
"I was in the hotel and I said, 'What do you want me to do, get on the flight?' And she said, 'No, the doc said they're going to be out in half an hour so you're going to miss it anyway."
Watch Eddie Betts speak about watching the birth of his daughters on FaceTime below. Post continues after video.
Too far away to make it home in time, Betts did the only thing he could to not miss out on the birth.
Right there in the lobby, he pulled out his iPhone and watched Anna give birth to their two daughters live on FaceTime.
Announcing the news to his teammates before taking the field against Victorian team St Kilda last night, Betts said he and Scullie were pleased to have welcomed two healthy twin girls.
"So I was on FaceTime in the lobby. I actually had someone come and ask for a photo and I was like 'stop'," he said in a video posted on Twitter by the Adelaide Crows Football Club.
The now father-of-four went on to kick the opening three goals in the match against St Kilda, with the Crows winning 104 points to 55.
How special is this?! ❤️ Eddie sharing the great news of his two beautiful healthy girls with his teammates ????‍????‍????‍???? #weflyasone pic.twitter.com/vy5XFqwzXT

— Adelaide Crows (@Adelaide_FC) April 8, 2018