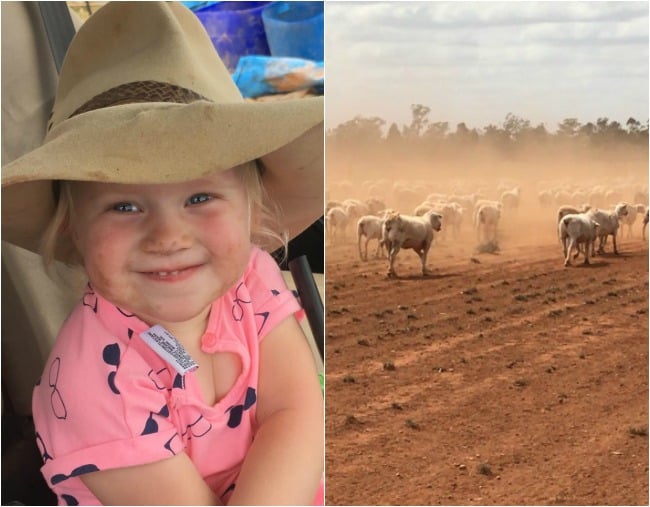 Jess Baker is living on hope right now.
She and her husband Joel have a 1800-acre sheep farm just outside of the rural NSW town of Nyngan, an area which, like 99 per cent of the state, is experiencing its worst drought in decades.
Until late June, there hadn't been significant rain on the Baker's farm since February 2017. But 44 millimetres of rain was not enough to come close to repairing the damage caused by almost 18 months of drought. Especially not when it hasn't rained in the weeks since.
"We only bought our farm two years ago. We don't have a lot of experience behind us. It's quite daunting to be in a full-blown drought," Jess tells Mamamia.
The lack of rain has meant the Bakers have been unable to feed their sheep on pasture crops and instead have to buy in feed and water to keep their sheep alive. It's a costly process – especially when they're barely receiving an income from the farm. Joel, 27, works a full-time job on another farm to support their two children, three-year-old Lily and nine-month-old Levi, in addition to the work he and Jess do on the farm.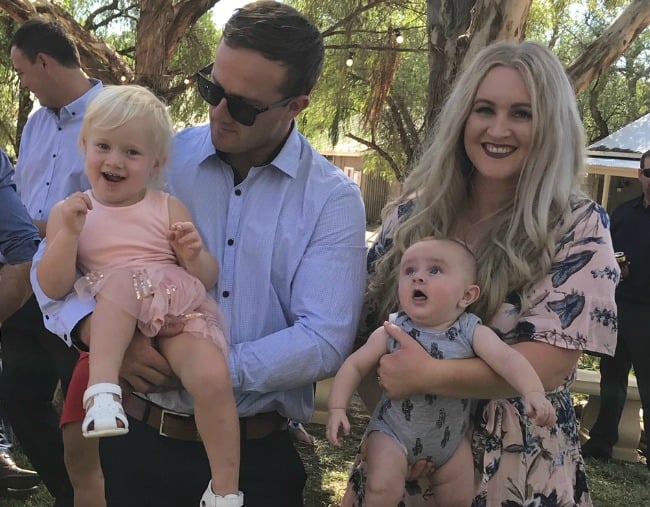 Jess says that what some people may not understand is the amount of time involved in keeping things alive in a drought.
"We're out feeding with our two little kids 'til 9 o clock at night in the dark. If we're not feeding we're filling up our tanks with the water truck and that's another few hours into the night," the 25-year-old says. "Feeding has turned into a nearly seven-day job.
"You're not making any money, but all your time is put into keeping your place going."
This, as much as the financial burden, has taken a toll on the young couple's mental health.
"It has definitely affected our mental health. My husband comes home stressing. We don't have enough time to do the things that we enjoy anymore."
"We can't take our little children to events or playgroup or the mums and bubs groups in town because I'm also dragging the kids around to feed the sheep with me.
"There's no such thing as a holiday or a weekend away at the moment."
Still, as tough as Jess and her family are doing it, she knows there are so many farmers worse off.