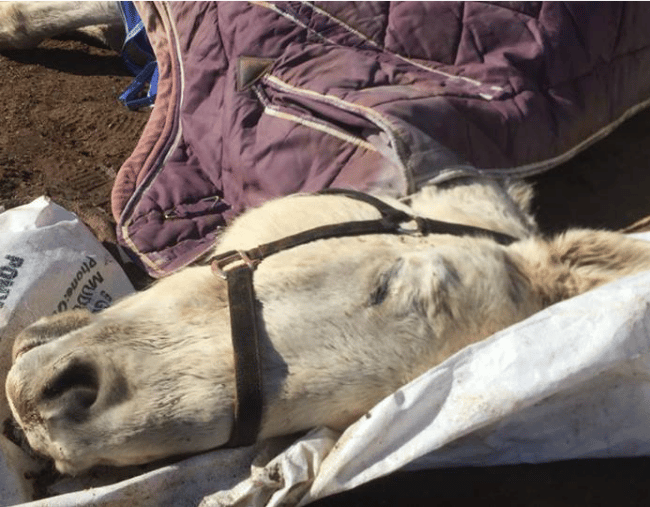 When farmer Jacintha Leatherby went to feed her horses on Sunday morning, she made a grim discovery.
At the dry Gulgong property, one of her four horses was lying on the ground, unable to get up.
The 11-year-old thoroughbred cross-stock horse named Thor was given pain relief and penicillin, but it soon became clear that Jacintha would have no choice but to put her beloved horse down.
"He was getting better but then he got worse and by 11.30 he was thrashing and having fits," Jacintha told Yahoo7 yesterday.
The horse is believed to have died of a stroke or a heart attack, fuelled by the stress of New South Wales' dire drought conditions.
Jacintha's farm currently looks very dry, with very little grass – much like many properties in NSW at the moment.
Although her three other horses are coping better than Thor, Jacintha also has five sheep who are struggling with the tough conditions.
"They have hay but it isn't the best quality because I can not afford to buy top quality hay," she told Yahoo7.
Mamamia Out Loud is about to head off and do two live shows in the bush, hear why here:
In a devastating post on Facebook page 'One Day Closer to Rain (Drought)', Jacintha shared a photo of Thor, writing "I made the decision to help him across the rainbow bridge".
"One of my worst fears is happening right in front of me," she added.
Facebook users thanked Jacintha for sharing her sad news, as they hope it will give others an insight into the desperation farmers are feeling.
"Some people don't understand the dire situation people are in with stock but they may see a post with a horse in it and take notice," one person wrote.
Over 99 per cent of New South Wales is currently in drought as farmers struggle with one of the driest winters ever recorded.
The NSW government have announced an extra $500 million in drought assistance for struggling farmers, but help is still needed.
Right now, 99% of New South Wales is in drought while other parts of the country are in drought, on drought watch or about to go into drought onset.
Farmers are doing it tough so we're taking Mamamia Out Loud on the road with a series of live shows for drought relief. We'll be in Tamworth on Friday 17th August and Dubbo on the 20th of September and all profits raised go back into local communities, thanks to our partner charity, DroughtAngels. Grab your tickets and support our farmers here, and if you'd like to sponsor someone to attend email [email protected]
Want to be part of something BIG? Want to help make the world a better place for women and girls? Plus go in the chance to WIN $100? Take Mamamia's survey now!