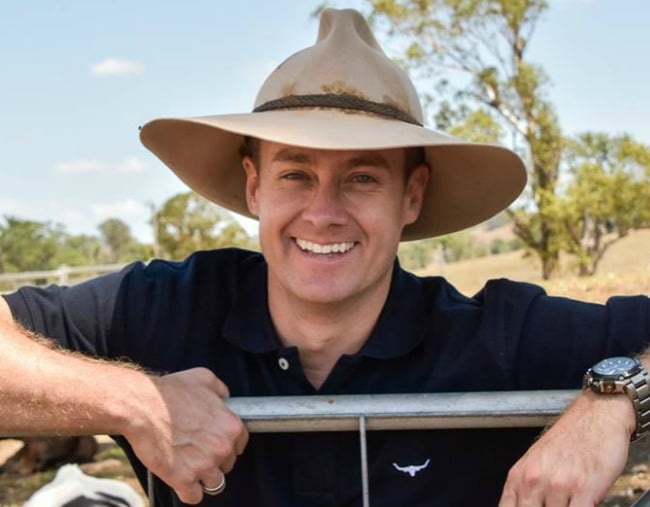 Grant Denyer has shared a troubling photo of his family's 27-acre farm in Bathurst, while pleading for help for drought-stricken farmers.
On Facebook and Instagram, the Gold Logie winner posted a photo of his barren-looking backyard and paddocks, labelling it "situation critical".
"This is how dry it is at our place," he wrote on Sunday. "So dry, the kangaroos are drinking out of our dog bowl."
However, Denyer did not want sympathy for himself, but rather to draw attention to the bleak situation facing hundreds of farmers across New South Wales.
"We're lucky we don't rely on the farm for income but so many in regional Australia do.
"It's so sad right now. In many places it's the worst drought since records began."
The Network Ten game show host said it was not only the financial toll this is taking on farming families, but the "mental and emotional" one.
"Some families are at breaking point, unable to afford food and with no choice but to shoot their stock so they don't starve and suffer a slow death."
This trauma and stress can have devastating consequences of individuals.
"Mental health issues have risen 70 per cent in our region and suicide by farmers is the most tragic consequence of such a drastic situation."
The father-of-two pleaded for city folk to support farmers in their time of need.
"Farmers harvest our food and the materials for the clothes on our back… please think of them. We need them. They need us."
Denyer finished the post by sharing the links to two Australian charities his family supports: Rural Aid, which provides numerous services to in-need farmers, and Buy a Bale, which in the vein of other forms of sponsorship, allows supporters to buy bales of hay and other necessities for farmers.
You can support either charity by going to their websites: RuralAid.org au and BuyaBale.com.au.
If you or anyone you care about is experiencing crisis, there is always help available. You can phone Lifeline on 13 11 14 or visit Lifeline.org.au.
Right now, 99% of New South Wales is in drought while other parts of the country are in drought, on drought watch or about to go into drought onset.
Farmers are doing it tough so we're taking Mamamia Out Loud on the road with a series of live shows for drought relief. We'll be in Tamworth on Friday 17th August and Dubbo on the 20th and all profits raised go back into local communities, thanks to our partner charity, DroughtAngels. Grab your tickets and support our farmers here, and if you'd like to sponsor someone to attend email [email protected]