In news that says everything about the state of the world in 2018, President Donald Trump has gone and said a stupid thing, only to have his apology for said stupid thing overshadowed by doing a stupider thing.
You see, in the wake of a bizarre press conference alongside Vladimir Putin in Finland on Monday, Trump has been forced to clarify his comments about Russian interference in the 2016 presidential election.
At a brief, follow-up press conference on Tuesday, the President tried to say he 'misspoke' when he rejected the intelligence community's conclusion that Russia meddled in the United States election, explaining he meant to say: "I don't see any reason why it wouldn't be Russia," instead of, "I don't see any reason why it would be Russia."
Eugh.
Don't you hate when you accidentally say the wrong word about one of the most controversial issues of our time in front of the world leader about whom the controversy is about?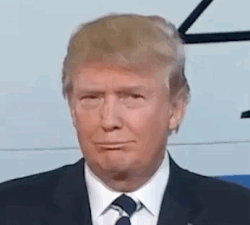 This mistake, however, has been quickly obscured by a funnier, less scary one, visible on the typed pages Trump was holding as he spoke about his meeting with Putin.
His notes - which were typed in a noticeably large font - had additions made in black marker, written in capital letters (Trump's handwriting is known to consist mainly of capital letters).