For those of us who exist far from the clutches of Vladimir Putin's Russian regime, little is known about the man who generates as much disdain and controversy as his US affiliate – if not more.
While we know so little about the private life of one of our world's most powerful leaders, so much less is known about the women in his orbit. While Trump's wife and daughters appear by his side publicly at almost every chance, Putin prefers to stand solo in the public eye.
So who are these women, and why are they kept hidden?
His ex-wife
All the way back in 1983, 25-year-old Lyudmila Putina would marry the man who would soon become the President of Russia.
The couple had met through a mutual friend back in 1980, after Lyudmila, – a then-flight attendant – had come to Leningrad for a few days with a friend .
Interestingly, as Putin's power and fame grew, Lyudmila maintained a low profile on the Russian political stage. She only stepped out publicly with her husband when she absolutely had to, and the only times she opened her mouth, generally, was to support him.
No family portrait has ever been issued of the family, which goes a long way to explain how much Lyudmila hid from the spotlight.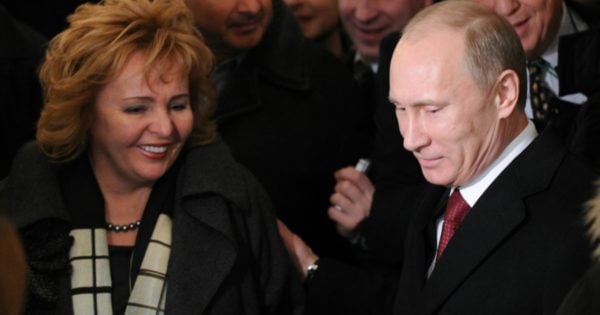 In 2013, the couple announced their separation, with their divorce finalised in 2014.
Russian news website Sobesednik last year revealed Lyudmila was in a new relationship with a much younger man and had changed her name.
Now known as Lyudmila Ocheretnaya, her new husband has since been identified as not-for-profit director Artur Ocheretny, 39.
His daughters
Putin has two daughters: Mariya, 31, and Yekaterina (Katerina), 30, who, like their mother, aren't big on the limelight. (Or whose father shields them from the spotlight.)
Putin himself has rarely spoken about his two children publicly, and up until recently, news outlets struggled to identify what his daughters actually looked like, what they did for work and who they were married to. It's almost impossible to get your hands on images of the two online.
After an investigation by Reuters, a few details about his two daughters emerged.
For one, it's believed Katerina is married to Kirill Shamalov, the son of a close friend of the President. The couple is thought to hold an estimated $2.83 billion worth of shares in petrochemical company called Sibur Holdings. In addition to her astounding wealth, Katerina also holds a senior position at Moscow State University in the Mechanics and Mathematics facility, publishing scientific papers and authoring chapters in books.