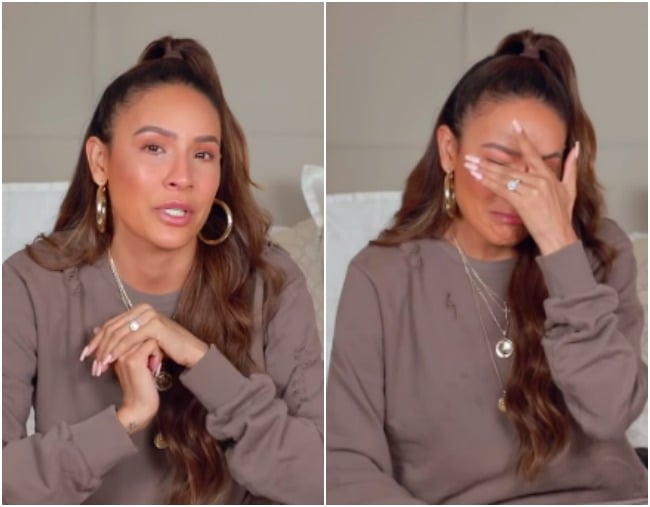 Beauty Youtuber Desi Perkins has carved a glittering career for herself in the four years she's been sharing her life and skills online.
She's painted Kim Kardashian's face, has collaborated with the likes of Maybelline, QUAY Sunglasses, and Dose of Colours, and has amassed a loyal following of three million subscribers. And while makeup tutorials have often been joined by insights into her personal life; her love for husband Steven, her pet dogs, and friends, there was something that has shaped Perkins' life over the last four years that she hasn't shared.
Overnight, in a 36-minute piece to camera, the 31-year-old from Los Angeles changed that, and pressed 'publish' on a video titled 'Hardest Video I Have Ever Filmed'. In it, she sits on a bed and retells the most difficult story of her life; one that includes a traumatic miscarriage, and so many moments of crushing disappointment.
"It's hard for me to make this video but it's also something that I feel is important to make and it's also going to make me feel better… it's going to help me and anyone who is going through what I'm going through," the beauty guru began.
"I'm uncomfortable making this video, but I think maybe if I do this it will help people understand why certain comments get to me, and why I'm sensitive to certain things."
Perkins says that despite being an expert in makeup, the number one question she gets from fans is, 'When are you having a baby?'.
"Surprisingly, after all the things in high school, all the pregnancy scares [or] thinking you can get pregnant easily, that's not really the case for me," she said.
While Perkins did share the news of her miscarriage four years ago, what she never shared is that "I've been struggling with pregnancy since then, and it's been years."
The aftermath of that miscarriage was catastrophic for Perkins, whose best friend happened to be pregnant at the same time, and who would come over every day to make lunch and lie in bed with her while she battled depression.
"There were so many times that I psyched myself into thinking that I was pregnant," Perkins continued. "… I kept making my body feel pregnant because I wanted it so bad, so if I had one bout of nauseousness… I would get so excited. I'd buy a pregnancy test, come home, and [it would be] negative.