She's most well known for her makeup tutorials along with her sister Sam as Pixiwoo, but beauty YouTuber, makeup artist and Real Techniques co-founder Nicola Haste Chapman's latest upload was of a very different nature.
In the video called "My Secret Illness", the 36-year-old shared with her two million followers her battle with multiple sclerosis.
While Chapman was diagnosed over five years ago, it was the passing of her biological father who was not in her life that contributed to her decision to finally share it.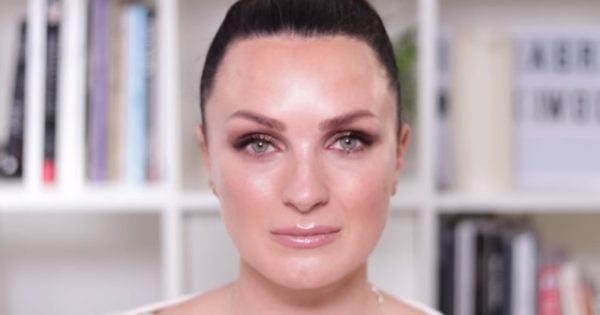 "My biological father never gave me anything in my whole life... except MS," she said.
"I've wanted to tell everyone for so long but I had to deal with it myself first and when you see someone deteriorate from something you know you have it can be really, really heartbreaking and make you really sorry for yourself.
"I don't know why I'm crying, it doesn't even upset me anymore, I shed my tears a long time ago feeling sorry for myself when I found out I had it."
Multiple Sclerosis - or MS - is a condition of the central nervous system, interfering with nerve impulses within the brain, spinal cord and optic nerves. It affects around 20,000 people in Australia, with side effects including fatigue, muscle spasms, tingling, numbness, crazy emotions, vision and speaking problems.
"I sometimes get the speaking problems when I'm run down, I can't speak properly. Literally my brain is just fuzzy and I can't find the words to say what I want to say," Chapman said.
The makeup artist said she first noticed signs of the disease five years ago after the birth of her son Harry.
"I had a really long labour, 55 hours, but thought nothing of it. But then I couldn't properly see out of my right eye. When I'd move I would have tingling," she recalled.
A trip to the hospital identified it as an eye problem. Then, when she gave birth to her daughter Edie a few years later, she went blind in one eye. The doctors gave her a patch.
It was a friend who was a doctor that raised the possibility that it could be something serious, urging her to have an MRI scan. When she found out Chapman's biological father had MS, it became even more important.
"I was so... I wasn't really heartbroken but all I knew of MS was that my dad had it and he was bedridden from it. I didn't want to research it further, I didn't want to know," she said.
"I spent about a week or so in bed crying every night. I had to stop going to the gym which I love, had to change my life completely really because I was just exhausted all the time."
Listen: What happens when life pulls the rug out from under you. Post continues after audio.
Her vision never fully returned in her affected eye.
"[After diagnosis] I cried myself to sleep for two weeks thinking 'What if my vision never comes back?' 'What if my other eye gets worse' all the things that go through your head, more thinking 'I won't be able to walk my kids down the aisle, or be there'."
"After about a week of feeling sorry for myself I thought 'You know what? I am not this person. I am not going to lie here crying and feeling sorry for myself because other people have it, other people live with it and get on with life'."
Now she says she "lives with it".
"I rarely drink, I eat really clean and we just live with it and it's fine," she said.
"This is the card I was dealt. I live with it, I could have been told that I have a tumour behind my eye and a week to live but I was told I have MS and I have a life to live, not just a week.
"Over 100,000 people in the UK have it and that's why I wanted to do this video, for all those other people who have just been diagnosed with it. It's taken me five years to get to this point where I can actually make a video and say it... or so I thought!"
The video has been viewed almost 450,000 times since it was uploaded on Friday, with many subscribers and commenters expressing their support and gratitude for her bravery.
"I have MS as well... I found this video to be very inspirational. I cried with you, and know how it feels to be completely helpless and at the mercy of your body. I was diagnosed in 2014," wrote maryem802.
"It's nice to feel like you aren't alone, so thank you for having the courage to make this video. MS does not define me, and I'm glad you feel that way too. I wish you the best, and know that 2.3 million of us are fighting this battle with you. XOXO."
"I have MS too...going to be 59 this year and I wake every morning thankful I can get out of bed on my own. Everyday is a good day...keep paying attention to your triggers...maybe one day when your my age they will have found a cure!" another wrote.