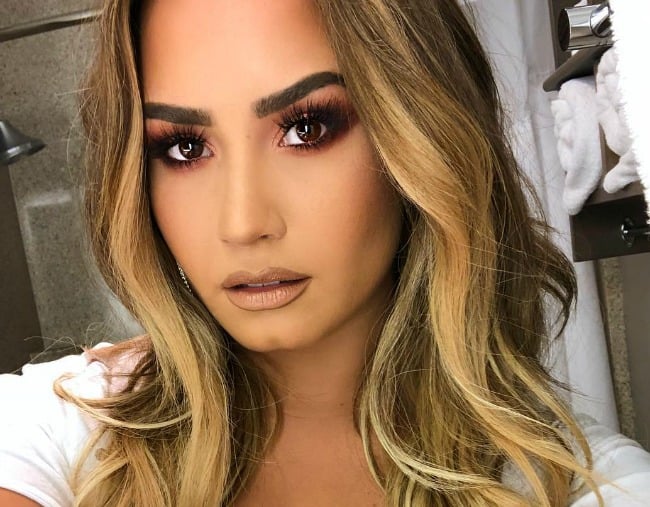 Singer Demi Lovato has spoken about her relapse two weeks after she was hospitalised over a drug overdose.
"I have always been transparent about my journey with addiction," she wrote on Instagram on Monday morning (Sunday US time).
"What I've learned is that this illness is not something that disappears or fades with time. It is something I must continue to overcome and have not done yet."
The former Disney star thanked God for "keeping me alive and well" as well as her family, friends, fans and the team at Cedars-Sinai Medical Centre, Los Angeles for their support.
"I now need time to heal and focus on my sobriety and road to recovery."
On Tuesday, July 24 TMZ reported the 25-year-old was taken to a Los Angeles hospital from her home in the Hollywood Hills.
According to NBC, the star was "stable and alert and breathing" after being administered an overdose reversal medication.
Early reports stated Lovato had suffered a heroin overdose, but this has not been confirmed, with suggestions the cause was another narcotic.
The pop star and actress has previously spoken about her substance abuse and addiction issues. Her recent hit Sober focused on how she broke her six year sobriety from alcohol, cocaine and the prescription drug, Oxycontin.
"Momma, I'm so sorry, I'm not sober anymore / And daddy, please forgive me for the drinks spilled on the floor," she sang.
"To the ones who never left me / We've been down this road before / I'm so sorry, I'm not sober anymore."
Lovato was last seen performing on stage on Sunday at the 2018 California Mid-State Fair in Paso Robles and was scheduled to perform at Atlantic City in New Jersey in late July.
After news broke, fans of the singer flooded social media with messages of support, with many sharing their personal stories of how Lovato affected their lives.
Demi Lovato has saved my life multiple times and has encouraged me to do better, be better and live better. Nobody has touched my life more than she has. I love you so much @ddlovato.

— Casey Fitzsimmons (@caseeeyfitz) July 24, 2018
sending all my love to demi lovato! you can do this! you did it before! please take care of yourself ❤️ @ddlovato

— brandon evans (@bevansisme) July 24, 2018
I'm a fan of Demi Lovato and i've seen her live. I think the main reason I'm really sad is because she's been so open about her journey with everything she has gone through. she's been real with everyone. she has tried so hard. it makes me sad to hear that she's —

— johnny (@jxhnnybxrrios) July 24, 2018
#DemiLovato
You can with this and with more. Fight as you always have, do not stop fighting please. We love you ???? #lovatics@ddlovato I love you so much ????

And please always remember ????❤???? pic.twitter.com/4e8LNUPYKx

— _GiiGii_ (@_ddGiisella_) July 24, 2018
Celebrities like Ariana Grande and Lily Allen have also shared their well wishes on Twitter as well.
i love u @ddlovato

— Ariana Grande (@ArianaGrande) July 24, 2018
Poor beautiful spirit @ddlovato I hope she's ok, and that she makes a full recovery soon.

— LILY ALLEN (@lilyallen) July 24, 2018
I love @DDLovato so much. It breaks my heart that she is going through this. She is a light in this world, and I am sending my love to her and her family.

— Ellen DeGeneres (@TheEllenShow) July 24, 2018