Dax Shepard has admitted he spent the first few months of his relationship with Kristen Bell feeling very confused. But his confusion didn't stem from all of the usual relationship things, like not knowing where they were headed, or trying to decide if he really liked her – he was confused about her boobs. Yes, her boobs.
It all started when Kristen made a joke about her boobs being fake at the very beginning of their relationship. According to the couple – who have now been married for five years – it was the first time they'd ever decided to hang out "intentionally," and after a group dinner with mutual friends, they went back to Kristen's place, where they all ended up in her hot tub.
Eventually, they found themselves alone, and that's when things got weird and kind of awkward.
"Like most guys, unintentionally and perhaps subconsciously, your eyes darted down to my sternum area and perhaps the left and right side of my sternum, which I refer to as my breasts," Kristen recounted on Dax's podcast, Armchair Expert last month.
"To diffuse the situation, I said, 'What are you looking at? My fake tits?'"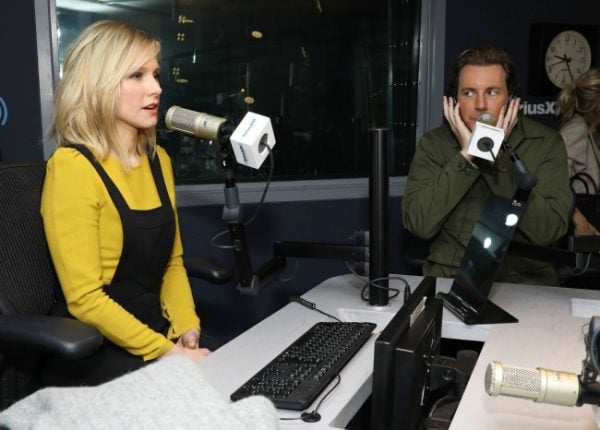 Dax, 43, said he had no recollection of looking at Kristen's boobs, but could remember "staring at your ass a ton that night." At least he's honest, right?
He did remember Kristen mentioning her fake boobs though, and just assumed she was being serious, because, hey, this is LA.
A few months into their relationship, Dax said he was trying to be a "good boyfriend" by watching Kristen's show, Veronica Mars, when the 37-year-old brought up her "fake boobs" once again.
"Between seasons one and two, you came into the room and said, 'Oh, look at this. This is when I got my boobs,'" he recalled.
But Kristen insisted she was only making a joke about how "late I went through puberty."