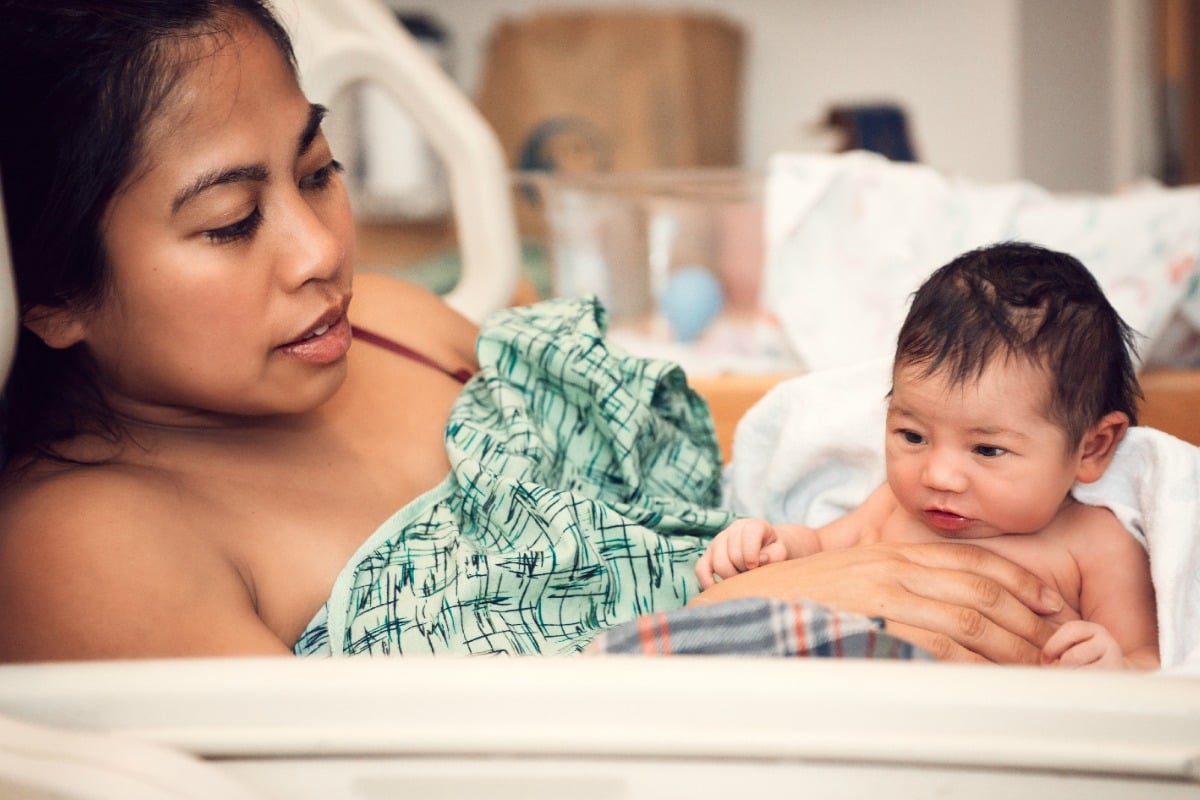 Every year in Australia more than 300,000 babies are welcomed into the world.
If you're an anglo Australian, unless you have close friends from different cultural or religious backgrounds, your experience with birth probably looks pretty similar to what we might see on mainstream TV.
The Quicky explored different birth experiences. Post continues after podcast.

We're aware of waterbirths, natural births, home births, births where mums choose to go pain free, caesarians, epidurals, forceps deliveries, the public system, the private system, midwife support – the list goes on.
But the experience of giving birth can be a very different ballgame if you add in the customs and cultures of your birth country or faith.
Muslim birth
Mona is Muslim Lebanese, while her husband is Aboriginal African.
As she explained to Mamamia's daily podcast The Quicky, her faith allows her to only have women in the birthing room.
"If we have to have a doctor, if it was really essential and there were only male doctors I would accept that, and we're allowed to accept that. But if we have the option of a female doctor we take that," she explained.
Mona admits that when she gave birth three weeks ago she was naked, but Islamically speaking they are supposed to try and stay modest.
"But you're not going to be judged for not being modest, obviously what you're going through is hard and our creator knows that, he created the process," she said.
In the Muslim faith, regular prayer is a big part of the religion, but as Mona told The Quicky host Claire Murphy, "There's mercy in everything".
"When my water broke I stopped praying, but I was actually screaming at my husband, 'go pray for me'," she said.
As part of their religious traditions, it's a father's role once a baby is born to perform the call to prayer or Adhaan into the right ear of the child.
"It's the first thing the baby should be hearing," explained Mona.
The baby's first taste should be something sweet, so parents often put the taste of date on their baby's gums. It's believed to help tiny digestive systems to kick in.
"It's got vitamin K in it, which is really great for you," said Mona.
On the seventh day a number of events take place, including shaving the baby's head.