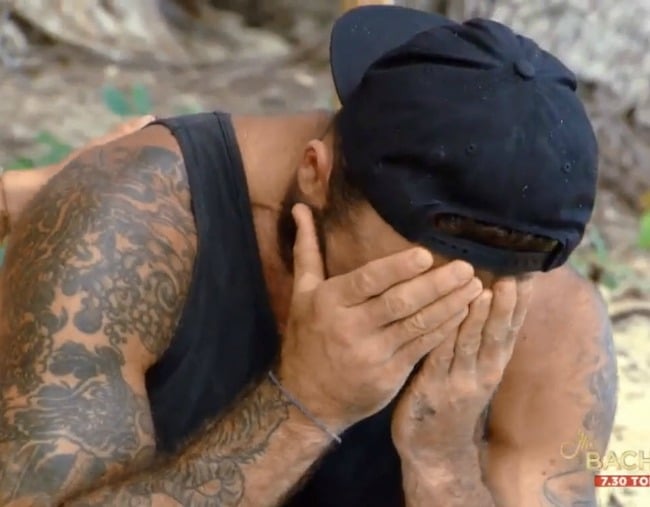 Last night's episode of Australian Survivor gave fans one of the show's most tender moments so far.
When the Champions won the first challenge, they were rewarded with gifts from their families including keepsakes, toys and photos.
Commando Steve's gift from his wife, Michelle Bridges and his children Ella, Brianna, Jack, and two-year-old Axel included drawings, messages and photographs that left the ex-military man in tears.
We must admit our eyes were a little bit damp as well.
As he opened the gift, the normally stoic and reserved former army commando broke down while reading a questionnaire his seven-year-old son Jack had filled out.
You watch the emotional moment right here:
"One from Jack where he has 10 to 15 questions on there. The one that really hit me was 'what makes your daddy special?'" Steve said to the camera.
"I can't say this without crying – because I love him."
"My kids really mean the world to me. I think that's something I've searched for – not that I needed to search for – my whole life is love and acceptance."
And stop it, because now we're all crying.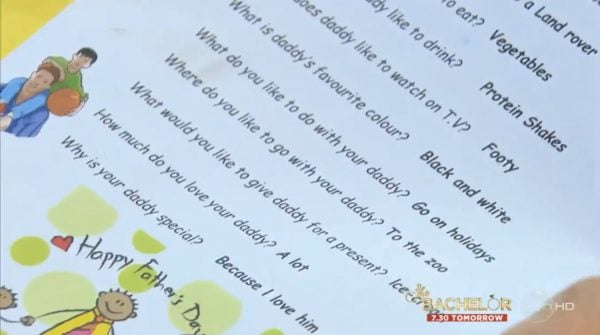 Some of the particularly moving answers included Jack's response to the questions, 'What does daddy like to eat? Vegetables' and 'What does daddy like to drink? Protein shakes'.
We also found out he calls his son calls his dad, 'Commando Steve'. Bless.
The beautiful moment also struck a chord with those watching at home, with fans sharing their emotional reactions on Twitter:
Commando showing Zach what a real man looks like...loving, caring and supportive. #SurvivorAU

— Jordan Grant (@jordiashley) August 14, 2018
It's so lovely to see big 'manly' men cry. I hope other men connect and know that it's not weak to openly cry and love your family ❤️ #SurvivorAU

— Life Bugs Me (@lifebugsme) August 14, 2018
OK, Steve Willis crying is just TOO BLOODY MUCH! Even I couldn't hold back the tears ???? #SurvivorAU

— Jonathan LaPaglia (@JLa_Paglia) August 14, 2018
Yeah Steve broke me too ???????????????? #SurvivorAU

— TJ Official ???? (@tj93official) August 14, 2018
Me when Steve is talking about his children #SurvivorAU pic.twitter.com/av9No32T57

— Francesca Mann (@FrancescaMann_) August 14, 2018
Seeing the softer side to @CommandoSteve just makes me respect him even more... love the raw emotion! Take that shitty New Idea & Woman's Day... stop writing crap about Steve's family because Australia knows they are his everything #SurvivorAU @Survivor_AU @MishBridges ???? pic.twitter.com/YuaXV7GKS5

— Cherie n Benni (@CherieNBenni) August 14, 2018
watching Steve as Steve and not the commando has been a highlight of the season #SurvivorAU

— james boyd (@noxiousstar0) August 14, 2018
So thank you Commando Steve, for being strong enough to share your vulnerability on national television, as both a man and a father.
Maybe Zach could learn a thing or two?
Did you get emotional watching Commando Steve open his presents? Tell us in a comment.