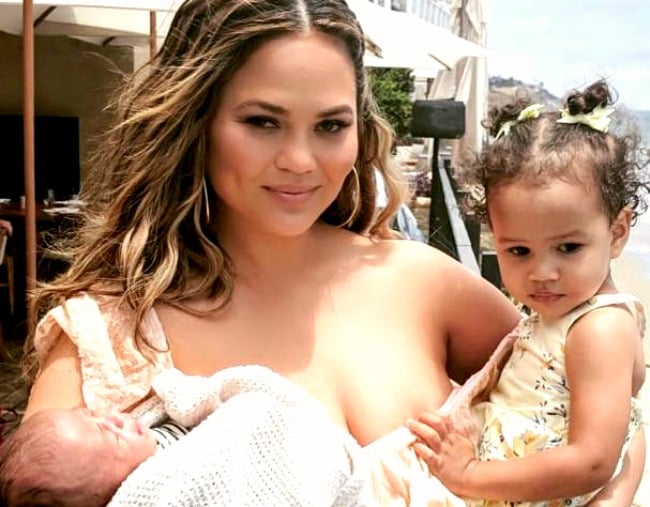 Ever since giving birth to her second child, Miles, Chrissy Teigen has been delivering relatable parenting content straight into our social media feeds.
And we're loving it.
Her latest mishap? The 32-year-old accidentally spilled some of her breast milk  – and she was determined that it wouldn't go to waste.
In two videos she shared on Twitter, Teigen can be seen using a syringe to try to suction the milk back up.
"I spilled my breast milk and this is how important it is in this house," she says in the video and wrote in the caption of the other: "I am so jealous of people with plentiful boobies."
Indeed.
EVERY DROP COUNTS IN THIS HOUSE pic.twitter.com/3hLL0AvAED

— christine teigen (@chrissyteigen) July 18, 2018
I am so jealous of people with plentiful boobies pic.twitter.com/aRzxeEVY85

— christine teigen (@chrissyteigen) July 18, 2018
Other parents who have suffered a similar fate, chimed in with their experiences.
I have soaked it up with a paper towel then rung it out into the bottle. I also had a storage bag explode in the freezer. You better believe I rounded up every tiny little milk-cicle I could get my fingers on and thawed them into a bottle.

— Andi ShoeSquirrel (@TheShoeSquirrel) July 18, 2018
I was so groggy one MOTN pumping that i finished, went to the sink, dumped out the bottles and went back to bed. Realized in the morning.

— Krista (@bdmtdesigner) July 18, 2018
God help me if I ever spilled any milk my wife pumped…

— ECII aka Eddie Moscone (@moscone) July 18, 2018
The only time it's perfectly fine to cry over it.

— Danni (@Bahama) July 18, 2018
I've bawled my eyes out over spilled breast milk ???? girl I get it. This is serious business!

— Kassie Rex (@KassieLilLiar) July 18, 2018
This was definitely my floor. Hang in there woman. pic.twitter.com/sVi43oaDZF

— Mevr. Leontien (@LeontienP) July 18, 2018
Because whoever said you shouldn't cry over spilt milk has never gone through the painstaking and arduous task of pumping their milk into a bottle, only to have it wasted.
This isn't the first time Teigen has shared her parenting woes either. Earlier this month, the mum of two had to field some very unnecessary comments which criticised her for posting photos of her breastfeeding online.
Luckily she had the perfect response to a troll who accused her of being a narcissist.
"Nah. Just chillin. Posting daily life like I do with anything else. Cooking, playing with dogs, etc. You make feeding a baby big deal because you got weird titty issues," she responded on Twitter.
Chrissy, we applaud you.