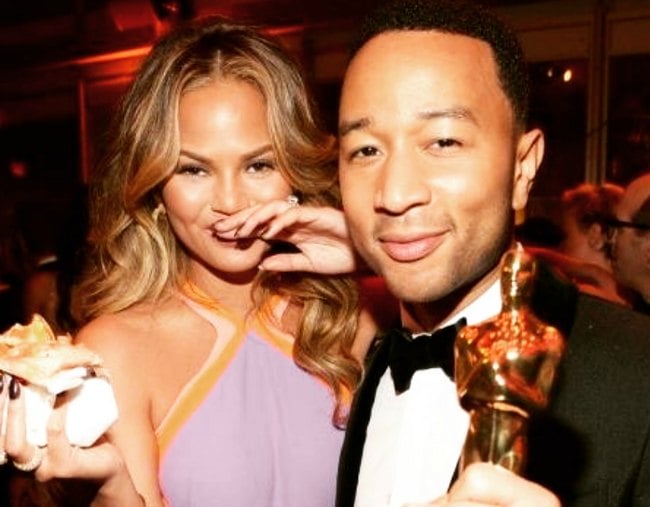 We've always thought John Legend looked somewhat familiar – but we've never quite been able to put our finger on why.
Thankfully, Legend's wife of four years,  Chrissy Teigen has stepped in to clear up any confusion.
At first her clues were subtle. The 32-year-old posted a picture of her two-year-old daughter Luna holding a plush toy and captioned the photo with "Luna and daddy."
As you can see in the image, the plush toy is Arthur, the well-known bespectacled cartoon aardvark. And when we looked at him, suddenly everything clicked into place.
Chrissy was trolling her husband – because Arthur and John Legend look like they were separated at birth.
I mean, look:
John Legend look like Arthur lowkey pic.twitter.com/bfeG3cYo4M

— Emily Sowah (@sowahblanket) February 20, 2017
On her Instagram post, Teigen wrote: "This is my childhood Arthur doll. My mum has kept it all this time. Maybe I've been attracted to Arthur my whole life and now I found my real life human one."
And John's response?
He simply left the word, "wow," on the post.
Fans joined in too:
Y'all Chrissy Tiegen truly is the best the fact she captioned this "luna and daddy" cause John legend looks like Arthur ???????? lmfao I'm DONE pic.twitter.com/2Yaha9ZuXf

— Logan (@logiebear127) June 21, 2018
John legend IS Arthur

— Rochellewick???????? (@itsRochelleWick) June 21, 2018
Ok but now the real question is if @johnlegend and @chrissyteigen are going to dress up their family as the Arthur cast for Halloween ???? ???? pic.twitter.com/VTBMk1jvP5

— WDYW (@siri_karina) June 21, 2018
"No relation to Arthur" is the funniest thing I have read in 2018. @johnlegend pic.twitter.com/7N2mqjRDty

— Shayna Lowe (@shaynaaalowe) June 21, 2018
And now that we know, there's no way we can un-see it.
John Legend and Chrissy Teigen win the top spot for our favourite couple and his video of them singing L.O.V.E. proves it.