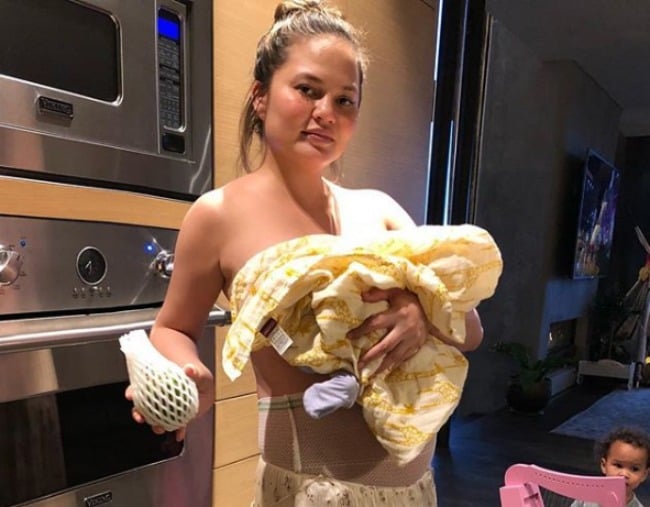 On May 17, Chrissy Teigen gave birth to her and John Legend's second baby, son Miles Theodore Stephens. Just five days later, John Legend performed at the 2018 Billboard Music Awards, while his wife and children watched the performance from their home.
It was, by all accounts, a lovely appearance. Legend's chats about his newborn on the red carpet, stage, and in interviews were received glowingly by an adoring audience.
"We named our first daughter Luna Simone Stephens; every name we give to our kids I think will have a little bit of musical history to it," Legend told the media.
"So Miles is, of course, is the same name as the great Miles Davis."
How lovely. If only it was the same for Teigen in April 2016.
Two years ago, 10 days after the birth of their first child, Luna, author Teigen and her musician husband were photographed out at dinner. The response from the public was equal parts swift and brutal.
"I would never leave my baby after a week!" one woman wrote to Teigen. "Some folks just don't get it!"
"Poor Luna," added another.
And, a personal favourite: "Who wants to leave a one week old baby to go to a bar?"
Rightio.
And so, while Teigen cradled her newborn last night and watched her husband on the television, she punched out perhaps the best tweet we've seen.
wow didn't u just have a baby John smh go take care of it !!!!!! disgusting pic.twitter.com/l20XJGQ2Fu

— christine teigen (@chrissyteigen) May 20, 2018
If you ask us, Teigen's next book should be called How To Call Out Blatant Sexism In 140 Characters Or Less.​
You are the person we need, not the person we deserve, Chrissy.