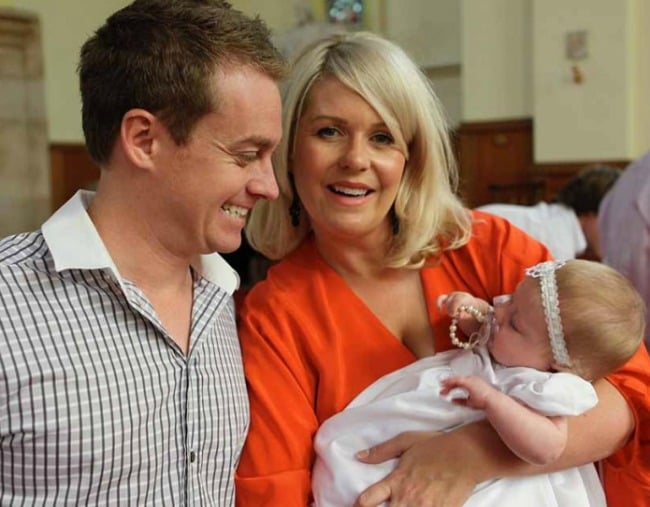 The birth of Chezzi and Grant Denyer's eldest daughter Sailor in May 2011 did not go as planned.
In fact, the experience was so traumatic for the now mum-of-two that she later suffered post-natal anxiety.
A combination of her daughter's large head and her turning into an awkward and painful position resulted in a long, drawn-out labour.
"I was really reluctant to have a caesarean. At all costs, I did not want a caesarean," she told Mamamia. "I had quite a comprehensive birth plan. Nothing on my birth plan went to plan."
Does the perfect image of motherhood cause postnatal depression? According to the Australian Medical Association, yes. Post continues.
Eventually, with Sailor in fetal stress, Chezzi went in for an emergency c-section, but by this stage, she had become so distressed and exhausted by the situation and the intense pain, that she experienced dissociation.
"Basically when she was being pulled out I saw myself on the bed from the roof. It sounds really bizarre but I basically removed myself from my body to cope."
Thankfully, Sailor, now almost seven and big sister to two-year-old Scout, was healthy. But what Chezzi says she didn't realise at the time was that the birth had left her traumatised. Bouts of mastitis causing trouble breastfeeding and bonding with her daughter, as well as her fear she wasn't good enough as a mother, also contributed to her anxiety.
Yet with none of her friends or family having experienced such a difficult birth or first few weeks, she had nothing to relate her own experience to and no one to suggest that she may need counselling or help.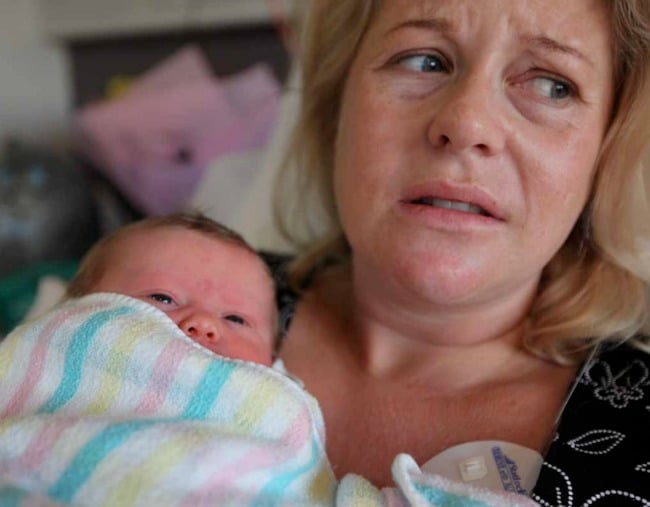 Because of her husband's role as the Sunrise weather presenter, the family travelled around a lot and Chezzi was unable to join a mother's group, something she thinks could have eased her feelings of isolation.
After weeks of struggling with episodes of anxiety, Chezzi turned to her doctor for a diagnosis. However, because her symptoms weren't typical of depression, she kept "passing the post-natal depression test" and doctor's assured her she was fine.
"I said to my doctor 'I'm not an anxious person, but I just get really anxious really quickly and I feel like I'm panicking and that's just not natural for me'. But I kept being told I was all good."
It wasn't until years later, when she'd recovered, that she realised she'd had suffered all the symptoms of post-natal anxiety and likely had an undiagnosed case of it.
Em Rusciano talks about working with post-natal depression. Post continues.
Chezzi said what prompted this realisation was speaking to other women, hearing their stories, and recognising similarities to her own. It's something she thinks could have helped her immeasurably when her daughter was young.
"I wish that I had other mums that I could look up to and didn't think that anxiety and depression was taboo, like I did at the time."
And with that in mind, Chezzi started her YouTube series Mummy Time TV, which, now alongside a website launched last month, is what she describes as an online mother's group.
"Not having a mother's group has left me at a big disadvantage, hence why I've been so passionate about uniting mums and putting together Mummy Time," she said.
"It's so important for mums to talk and it's so important to share the really bad stories as well as the really good stories because you never know who you might help."
She explained that the Mummy Time website was a place where mums could share their stories and read about other women's birth and parenting experiences. And on Mummy Time TV, Chezzi chats to fellow mums about all things parenting and also uses the oh-so-important tool of humour.
"When you think of anxiety and depression, you think of doom and gloom, you think of fear. And I want to break away from that, I want people to say 'I suffer from anxiety, but I can still have a bloody good hearty laugh when I see mums trying to act in some random skit about mum life'.
"I want to give people that humour and put anxiety and depression into the world that's normal completely normal and nothing to be feared."
A skit in the first episode, Baby Brain, was inspired by Chezzi's own experiences - like serving Grant dog food for dinner instead of casserole. Mums found it so relatable that it went viral, and now is the basis of a range of "Baby Brain" merchandise, raising money for a not-for-profit organisation Chezzi wishes was around when her daughter was born.
All proceeds from "Baby Brain" shirt and stickers go to PANDA – Perinatal Anxiety and Depression Australia.