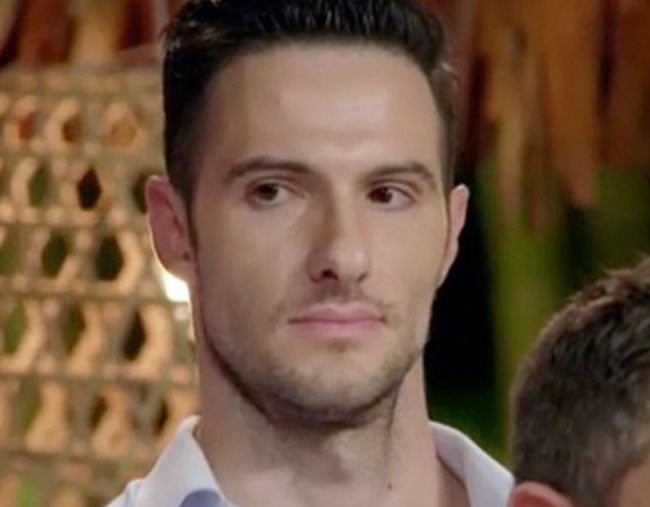 He may have claimed to be the "Geppetto" of Bachelor In Paradise Australia and gone into the rose ceremony confident that one of three women would keep him on the island, but after just one day, Canadian Daniel Maguire has been sent packing from the show.
In a moment that has made her Australia's latest feminist hero, Laurina chose to give her rose to a complete stranger named 'American Jared' instead of the man she described as one who "gives her the creeps".
"Towards the end of the cocktail party, Daniel sits there and he looks at me and says the most slimy, chauvinistic, derogatory comment… I realised this guy isn't having a healthy affect on the environment here," she said.
Watch: Our new hero Laurina sends Canadian Daniel packing on Bachelor In Paradise.
But the complete annihilation of Daniel's ego didn't stop there: within hours of the show going to air, some of the remaining Bachelor In Paradise contestants began roasting the 32-year-old (who has appeared on a season of The Bachelorette and two seasons of Bachelor In Paradise in the US) on Instagram.
Tara – who has become one half of the most unlikely but equally adorable island couples – meme'd herself reacting to Daniel describing the Aussie women as "his puppets".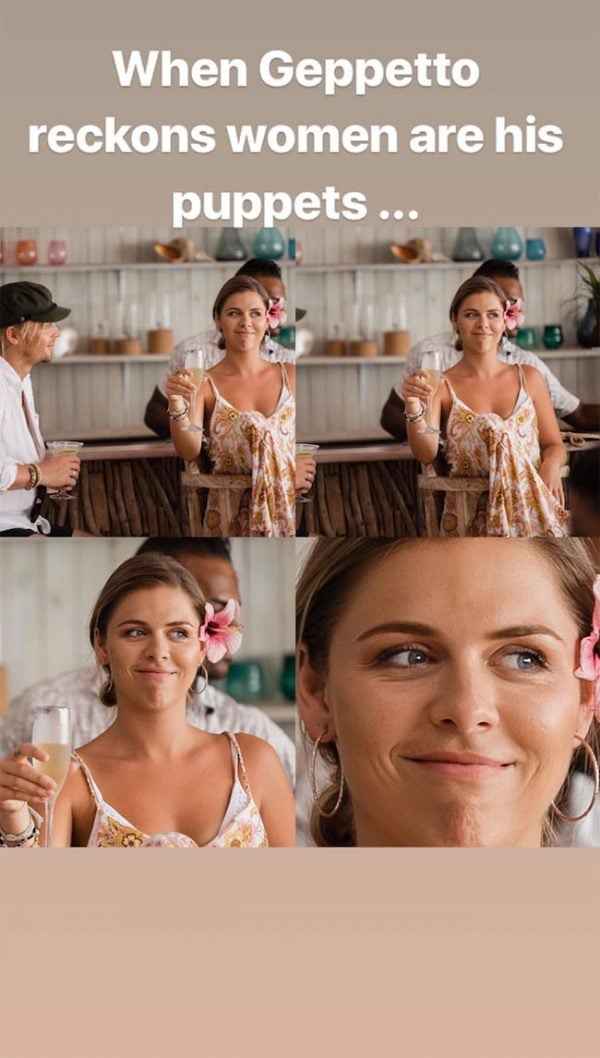 Jake also joined in on the action, sharing an image of him and fellow contestant Sam Cochrane reacting to any and every word that escaped the cocky Canadian's mouth.
"Please tell us more of your amazing ways," Jake captioned the snap, accompanied by a series of eye-rolling and laughing emojis.
Viewers were also applauding Daniel's departure, sharing their thoughts on the 'star' and applauding the Aussie women for seeing through his tactics:
????????????Kudos to the girls for ditching douchebag Daniel. You underestimated the Aussie girls mate - you can't play them & they can see through your abs - full of shit #BachelorInParadiseAU

— Soph (@Sophs0123) April 9, 2018
I am SO SO SO proud of Laurina for not picking that slime ball Daniel #BachelorInParadiseAU

— mikayla (@mikhaig) April 9, 2018
Daniel missing out on a rose is everything I needed in my life! #DickheadDaniel #nastycanadian #BachelorInParadiseAU

— HausofBec (@BecRants) April 9, 2018
Look it may not have happened this way, but I'm obsessed with the thought that these three ladies actually sat down and formed a plan to pretend to be into Daniel to get him all cocky, and then dump him #BachelorInParadiseAU

— Tahlia Pritchard (@Tahls) April 9, 2018
seeing daniel get absolutely shat on by literally everyone makes me oddly proud to be australian #BachelorInParadiseAU

— ri ???? (@whygeestan) April 9, 2018
But as contestants and viewers were slamming him online, Daniel shared his own thoughts about his experience in Fiji with his 86,000 Instagram followers, insisting Australian just doesn't "get" his "dry and sarcastic humour".
Jessie Stephens points out the big problem with Bachelor In Paradise so far. Post continues after. 
Alongside an image of himself pouring wine from a bottle off a balcony, he wrote: "This is for all the sensitive and insecure people who are too slow to get my dry and sarcastic humour."
He claimed he was "f***ing around most of the time" and suggested he "should get into acting".
"I will say or do just about anything just to get a reaction from cast or viewers," he wrote.
In another post, he said he intentionally aimed to cause a stir on the Australian version of the dating show.
"Say whatever it takes to get a reaction... I'm glad I could either make you laugh or mad LOL," he wrote.
Whatever Daniel's reasons for going on the show, we know one thing for sure: we're just glad to see him gone.