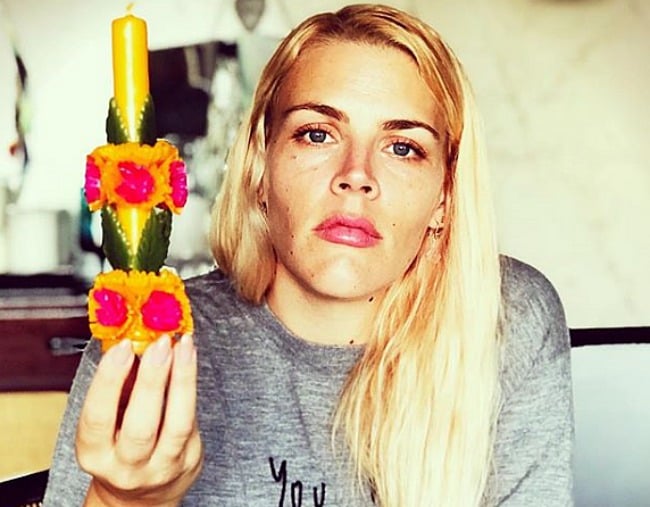 Busy Philipps' hustling is finally paying off.
The 39-year-old LA-based actress has just announced her green lit E! Network talk show Busy Tonight has been given an air date for October 28. That same month her memoir, This Will Only Hurt A Little, will hit bookstores.
Not bad for an actress whose main credits include hilarious but secondary roles in teen drams Dawson's Creek and Freaks and Geeks, as well as the Courtney Cox-starring Cougar Town and underrated comedy series Vice Principals.
No one would argue the gifted comic doesn't shine in these on-screen roles, as well as in the dozens other smaller parts in films and TV series she's played throughout her decades-long career. But it's safe to say that on the small and silver screens is not where Busy Philipps has made her mark.
For Busy, it was a phone screen.
More specifically, on Instagram, where the mum-of-two has racked up more than one million followers, many of whom consider themselves obsessed with her playfully captioned posts and constantly updated Instagram Story.
For fans, the appeal of Busy is that, in contrast to a lot of the heavily stylised content offered on the platform, everything the actress posts is real.
She's pulled back the curtain to show her fans exactly what her life involves. Sometimes that's glamourous of course – attending events and enjoying other perks that come with a Hollywood lifestyle.
But overwhelmingly her posts are oh-so relateable, from the adorable antics of her daughters, Birdie, 10, and five-year-old Cricket, to her parenting concerns, and from her food and wine-related dilemmas to her career disappointments.
Her Instagram account has become so successful in fact, it overtook her acting as a source of income in 2016. The following April, when applying her trademark candour to her money situation, she shared with fans why she partners with brands (but only the one's she likes) on sponsored posts.
"I gotta be honest with you, I didn't make a ton of money as an actor last year," she said in a video.
"I made more money doing that kind of stuff, like the partnerships with brands."