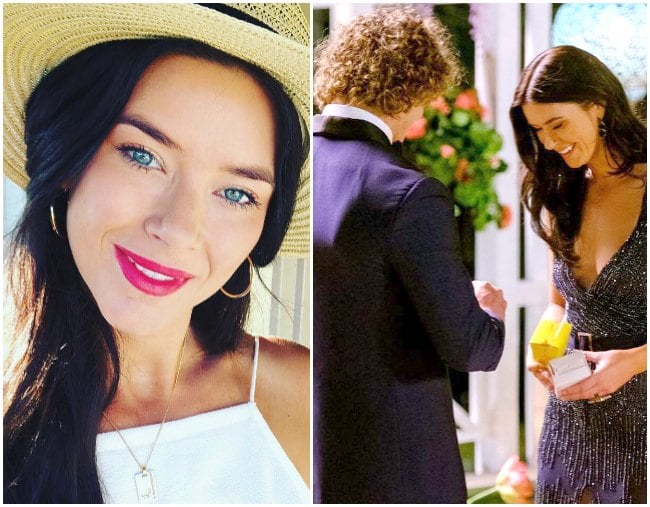 To keep up to date with The Honey Badger, AKA Nick Cummins, and all the best Bachelor 2018 news, cast and roses, check out our Bachelor hub. It's a blast.
OH NO, everyone stop.
We can all cease watching The Bachelor right now, because contestant Brittany Hockley has just more or less declared she's won the show.
Well… sort of.
We unpack the funniest moments from the Honey Badger's latest week in the mansion on our Bach Chat podcast. Post continues after audio. 

So, the 30-year-old made a Facebook post in which she shared a photo of herself from the show.
"Not used to getting so glammed up for a honey badger! But why not. Looking forward to tonight," she said.
Things then got interesting when a friend wrote in the comments section of the photo with, "Britt we are all enjoying the journey but just tell us what we really want…. Am [I] going heavy on Sportsbet or not???" they wrote.
And she liked the comment, hinting "going heavy" was a smart idea. Case closed.
Possibly over-analysed Facebook interactions aside, this new factoid adds to the growing body of evidence we have so far.
Number one: Brittany and the Honey Badger did have a pretty great first impression. She's from Port Macquarie, he's from Port Macquarie… in other words this romance is practically writing itself.
Number two: While speaking to Fitzy and Wippa, Cummins also gave us a clue as to the potential hair colour of the winning Bachelorette.
"In the past, they have actually been sandy blonde… and that's why I've had a big changer," he said.
And you know who's brunette? Brittany.
While we aren't the betting type, if we were to place a wager, we know who we'd go for, and Sportsbet agrees.
The radiographer is currently the favourite to win sitting at $1.82, followed by Sophie at $3.50 and Brooke at $4.50, with Christina ($81), Cayla ($71) and Aleksandra and Cat (both $61), the contestants deemed least likely to succeed.
What do you think of this new development? Tell us in the comments below.
Take the below quiz to work out which Bachelor date suits you best!