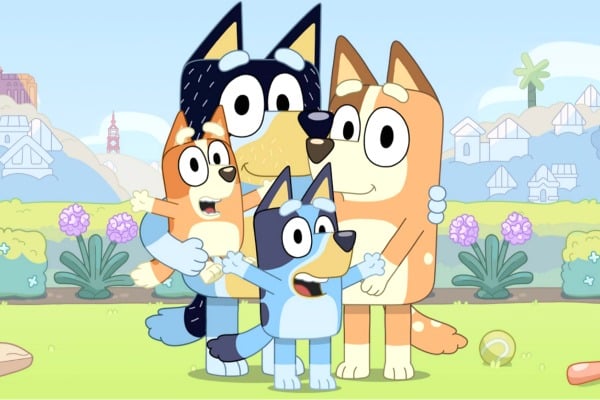 Parents know that when it comes to kids' entertainment, the sweet spot is a balance between something that's enjoyable for both the littlies and adults. Hitting that spot is what's made the Australian show, Bluey, reach cult status in less than a year.
The animated series, which appears on the ABC, first screened in October 2018, and was instantly popular with Aussie families. This week, the show won the Silver Logie for Most Outstanding Children's Program.
It was also featured in the New York Times parenting section in a list of the most popular kids' television shows – despite not even airing in the United States. That's quite an achievement for a program set in Brisbane, and whose creator is Brisbane-based.
Bluey is a six-year-old cattle dog, and the series is about her family; mum Chilli, dad Bandit, and four-year-old sister Bingo. Each episode is a simple story told in a simultaneously heartfelt and light-hearted way, with a focus on imaginative play, and strong and positive messaging for the whole family – hence its appeal.
But more than just being popular with children, Bluey is also a smash hit with parents.
As one parent told Mamamia, "I ADORE this show. It's funny, so sweet, intelligent, and extremely relatable.
"No super heroes, no magic, just a sweet family having everyday adventures."
Aussie parents are falling in love with Bluey. This is why.
The creator of the show, Joe Brumm, told the ABC that Bluey is based on his own family.
"It's as honest as I can get it," he said.
Brumm also explained that he wanted to avoid the Peppa Pig family dynamic, where the father is quite clueless about parenting; instead, Brumm chose to portray Bandit as an equal parenting partner with Chilli.
It's a point of difference that is not lost on parents. As mum Ellen said in the Mamamia Parents Facebook group, "Finally a dad that is portrayed as hands on! Sick of Peppa Pig's dad always being the butt of jokes".
Frances added, "Bandit is a great hands-on Dad, and is a great example of being a connected and 'in the moment' parent".