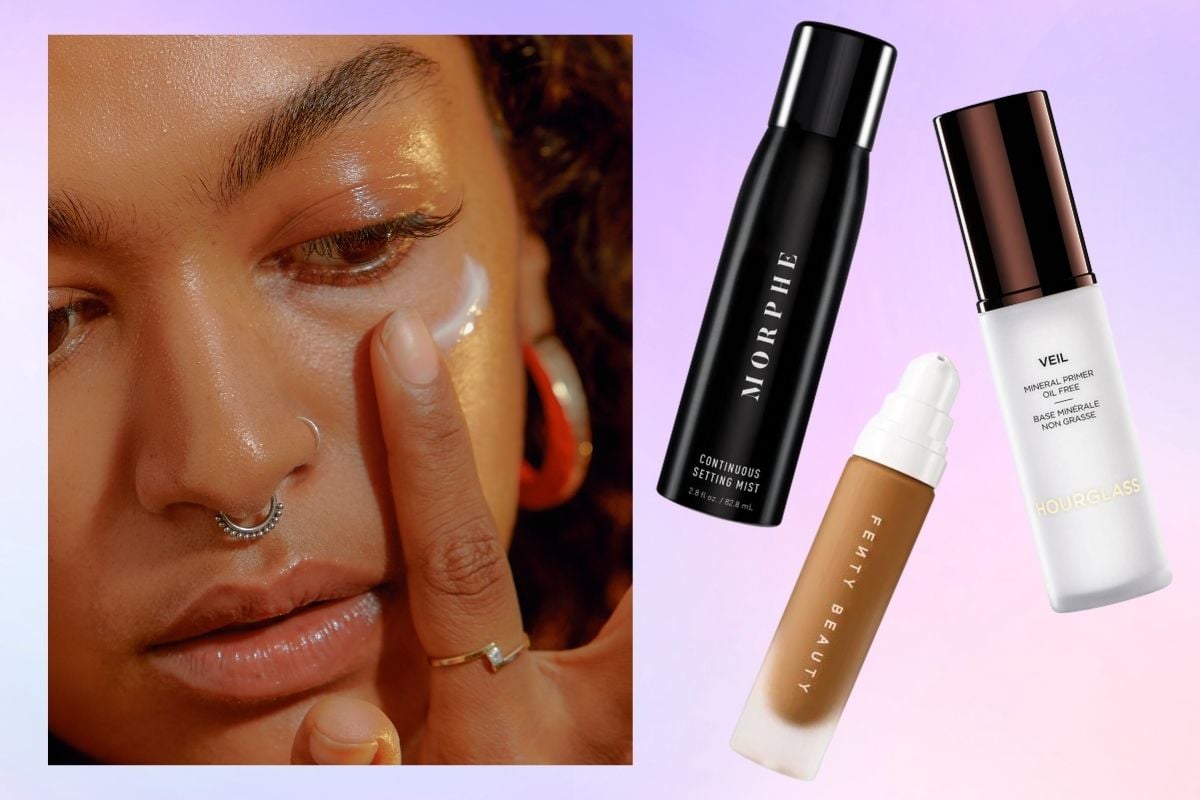 Summer and the holiday season are officially here, which means many things: sun, celebrations, SPF, and… sweat.  
As much as I love this time of year, I am an oily-faced human who is prone to perspiration, which means wearing nice makeup in hot weather can often be a little challenging. 
Watch: 'I tried the lube makeup trick. And the results kinda surprised me.' Post continues below.
So, to help myself and my fellow sweaty gals, I spoke to makeup artist extraordinaire Helen Samaryan to find out her best tips and tricks for summer skin and makeup.  
Grab a pen and paper, and get ready to take some notes. 
Tip #1: Prepare your skin. 
First things first. Before putting any makeup on that cute face of yours, you need to get it prepped and ready! Even for those of us with oily skin, it is imperative not to skip the bare minimum of using SPF and moisturiser on a clean face. 
"No one should leave the house in the daytime without SPF. Ultraviolette makes some incredible sunscreens that aren't too heavy and work incredibly well under makeup," Samaryan said.
"(Moisturiser) will not only prevent your skin from overcompensating for the lack of moisture by producing more natural oils, but it will also make your makeup look better." 
"Then, follow your skincare routine with a primer appropriate for your skin type or desired skin finish. My favourite is the Hourglass Veil Primer, $77."
Tip #2: Choose products wisely. 
When selecting a base, choosing the right product for your skin is so important. The foundations those of us with oily faces reach for simply won't work for our dry-skinned friends, and vice versa.  
"Go for something suited to your skin type and desired finish and use appropriate prep and finishing products designed to prolong the wear of your foundation," Samaryan says. 
"Powders and long-wear foundations with a matte finish have an advantage in terms of longevity and oil-absorbing properties, but sometimes can accentuate lines on mature skin or sit on top of textured skin."
As an oily gal who doesn't love a heavy face of makeup, most days I opt for Natio's Skin Perfecting BB Cream SPF 15, $15.95, or Fenty ProFilt'r Soft Matte Longwear Foundation, $53, when I want a little more coverage. 
In terms of eye makeup, waterproof mascara is a GAME CHANGER for daytime events or sweaty nights on the dance floor. For best results, Samaryan also recommends prepping the eye area with an eye primer such as the Hourglass Veil Eye Primer, $40 – clever!