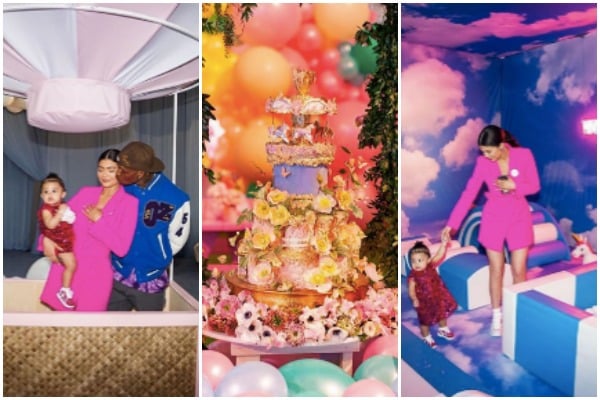 Picture this.
You walk into a large, luxuriously scented room, and greet the adults who are expensively dressed and camera-ready. Good thing they put in the effort, too, as there's a professional photographer there to capture every candid smile and meaningful glance.
There's a custom-made cake with sculpted fondant that would make Michelangelo weep… and what's that on the other side of the room? A linen-topped table covered with huge jars of all your favourite lollies, and empty mason jars to fill and take home!
You push through the crowds while avoiding getting tangled in the ribbons that dangle from the helium balloons, so that you can get to this table filled with lollies. Now that you're closer, you can see that there are chocolate bars that have personalised labels, and those fancy rock lollies that have messages written in them.
Controversial opinion, but should you sing Happy Birthday in restaurants? We ask team Mamamia.
It's all so personal and mature, and you wish that your own wedding could have been this nice.But the thing is, you're not at a wedding. And you're not in a designer boutique where the staff are all good-looking and offering you snacks, drinks and compliments. You're not even at the opening night of a new boutique in your local Westfield. It's not your cousin's 21st, or your aunt's 70th.
You are at a toddler's birthday party, and suddenly you're wondering, "Am I doing parenting wrong? Or are they the crazy ones?" Welcome to parenting in the 21st century, where the pressure to throw the perfect party is sky-high. And the more sophisticated and grown-up the theme, the better.
Very rarely do my daughter, five, or son, two, attend a party with a good old-fashioned Spiderman theme and Cheezels. Bec Judd's LOL Doll themed party for her daughter Billie – you know, the one that Judd put on Instagram only to be shamed for her extravagance – would look amateur compared to some of the parties I've seen and heard about.
My daughter has been to a party with a boutique theme, where the child pretends they have their own shop. (No, I'm not getting my daughter's social life with the early seasons of Keeping Up With The Kardashians, but thanks for asking.)
 

View this post on Instagram