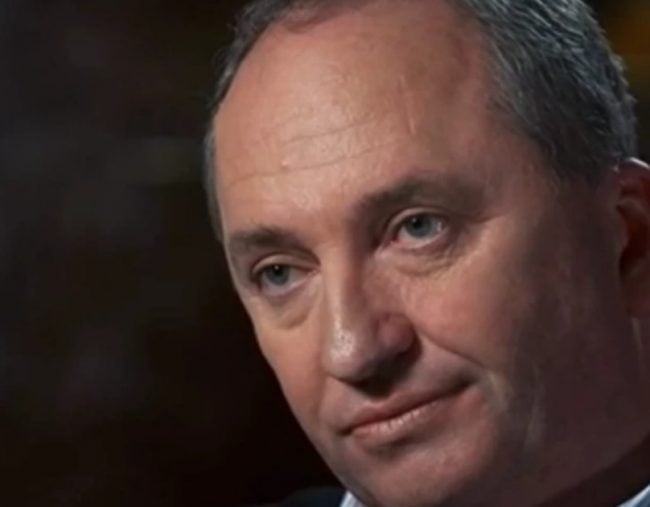 In April of last year, our then deputy prime minister and leader of the National party, Barnaby Joyce, turned 50.
Within weeks of his birthday, it was rumoured that his wife of 24 years, Natalie Joyce, confronted the woman her husband was having an affair with, his media adviser Vikki Campion, in their hometown of Tamworth.
Reportedly Campion was moved to minister Matt Canavan's office.
The following month, Joyce attended a Nationals conference in Broken Hill, and colleagues described him as "a mess".
At home, Joyce was said to be working on his marriage. It is believed Natalie Joyce sought help from Catholic priest, Father Frank Brennan, to counsel her husband.
In October, Campion reportedly went on stress leave.
By December, Joyce announced during the same-sex marriage debate that he was now separated from his wife. It was then that he moved in with Campion.
Before his 51st birthday, it was publicised that Campion was pregnant with Joyce's child and that he would be resigning as deputy prime minister and leader of the National party.
In 12 months, Barnaby Joyce blew up his life.
On Monday night's episode of Q&A, politician Jacqui Lambie said: "Look, I'm going to be brutally honest and I have been about this all the way through.
"This is beyond a midlife crisis. This is not the Barnaby Joyce I know. I am concerned about his mental welfare."
But is it actually beyond a midlife crisis? Or is that the perfect explanation?
In all the coverage of the Joyce saga – particularly his decision to accept $150,000 for an interview with Seven Network's Sunday Night – the subject of his 'mental welfare' has not been seriously broached.
We discussed the Barnaby Joyce and Vikki Campion interview on today's episode of Mamamia Out Loud…

It's not difficult to see why. There are a number of victims in this story; his ex-wife, his four daughters, his son who never asked to be thrust into a media storm, and even his former staffer who had images of her splashed across every newspaper in the country. Joyce certainly isn't anywhere near the top of that list.
But could his age – or a recent milestone birthday – go some way in explaining perhaps the most eventful 12 months of his life?