While the age old saying that 'hair grows', may be factually true, the psychological damage of a salon appointment gone wrong is forever scarring.
Alas, bad hair cuts and botched dye jobs don't discriminate. Sometimes, you'll go into the salon with a picture of Emma Watson's micro fringe, or Gigi Hadid's onetime pixie cut, and come out as a teary human, with an oddly-shaped tuft of hair. As far as we're concerned, this feeling is universal.
To prove this, we asked begged seven women to share their worst hair disasters. They did, and we're all better (and more relieved) people for it.
'Bald hair and bowl cuts,' Elise.
Left image: I dyed my hair bleach blonde and chopped it all off. I asked for Michelle Williams, I did not get Michelle Williams.
Right image: This happened when I did 'Shave For a Cure' in winter. It was very cold, and there was no relief other than finding out your head is not a weird shape. Not going to lie though, there was something crazy liberating about not having to do my hair in the morning, and showers somehow felt so much better.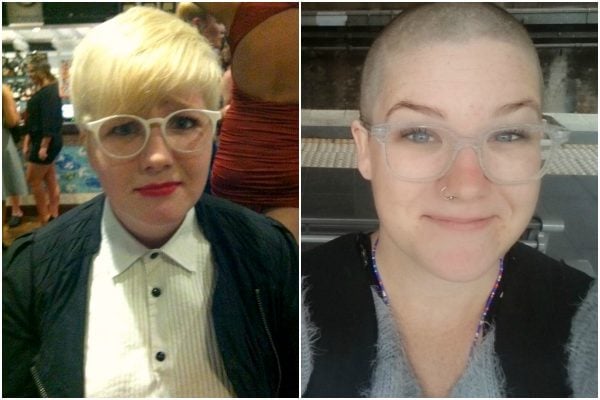 'Ashlee Simpson made me do it,' Eloise.
I desperately wanted to look like Ashlee Simpson, but I also wanted to dye my hair with the red foam that came with a copy of Girlfriend magazine and honestly I have never looked uglier in my life. I had to wear a giant headband to keep it off my collar at school because we weren't allowed that, but it was also too short to be tied up. I tore down the poster of Ashlee Simpson from my wall and cried.