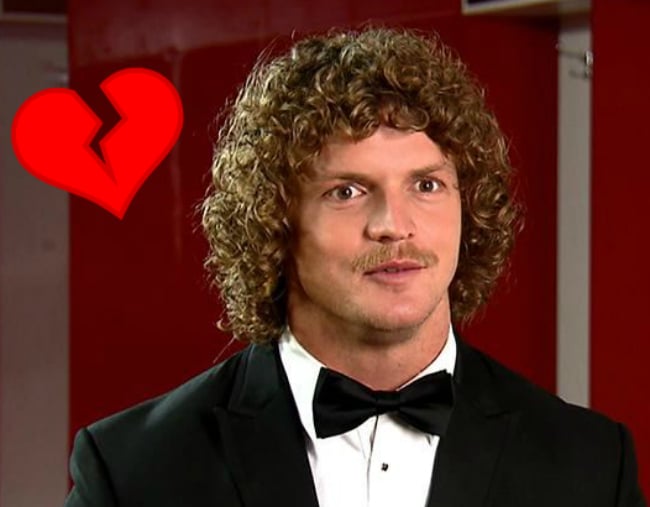 To keep up to date with The Honey Badger, AKA Nick Cummins, and all the best Bachelor 2018 news, cast and roses, check out our Bachelor hub. It's a blast.
We're only one episode into this season of The Bachelor and already speculation has begun on who Nick "Honey Badger" Cummins ends up with. Or doesn't end up with, as the case may very possibly be.
Rumours are abound that the rugby union star is actually single right now and things didn't work out with his final woman.
We do know he's expecting to give at least someone a ring though – we've already seen the sparkler.
So why is it that some people are so sure the relationship hasn't lasted?
He used past tense
Well, for one, he used past tense as he spoke about the woman he ends up with on The Project on Wednesday night ahead of The Bachelor premiere.
When Tommy Little asked Nick if he'd found "a good sort" on the show, he replied with what we think can be interpreted two ways:
"I was very lucky in this season. There's some cracking sorts, but you know,  once you spend some time with them they're even better birds. I was very lucky."
"Was lucky"? As in he's not now? Or "was" lucky to have a choice of so many fine women when selecting the woman he's with now?
Later in the conversation, when asked if he'd ever shave off his moustache, he again used the word "was" to describe his love.
"We are talking about love here, right. So, if it was love, that woman, my woman, would never ask such a thing of me."
A possible (recent) pash dash
And then there's this gossip from a source who told Mamamia that a friend of a friend of hers kissed Nick Cummins at a nightclub in Broome two weeks ago.
Could she have just kissed a man who looks a lot like Nick Cummins? Possibly, nightclubs are dark places.
Or maybe he's back with his ex-girlfriend?
Others suggested he may have gotten back together with his Norwegian ex-girlfriend, Martine Thomassen, whom he split up with 18 months ago.
However, Nick shut down this suggestion down when chatting to KIIS FM's Kyle and Jackie O Show on Wednesday morning – pointing out that Martine now lived in Norway.
"That's a beauty," he said when asked about the rumour. "Well, I'd have to fly to Norway, which that would be a whole different kettle of fish. How am I going to do my work there?"
Interestingly, that wasn't exactly a no. But Nick also denied having any leftover feelings for his ex.