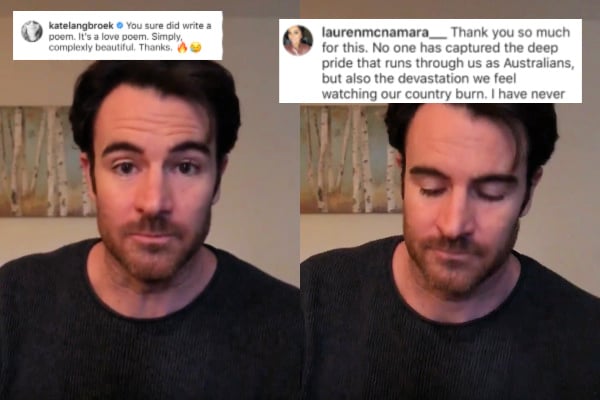 Like people all over the world, you probably woke up this morning to more news about Australia's bushfire crisis.
Some of that news, like learning just how much of our country is burning, is devastating. Other headlines, about how many human and animal lives have been lost, are hard to read and make us feel helpless.
Amongst the blackened darkness, stories of how ordinary people with true Aussie spirit are banding together to help those who've lost everything and save our precious wildlife are a shining light.
And then there are the images and sentiments you feel compelled to share because they manage to articulate exactly how you feel at this point in time.
One such social media story is the IGTV video titled 'To my country, from an expat'. You might've seen this shared all over your Instagram Stories.
You can watch a snippet from Lawson's video below. Post continues after video.
In the six-minute viral video, Australian actor Ben Lawson shares a poem that puts words around a feeling so many of us are experiencing – the struggle to reconcile the idyllic Australia full of sandy toes and balmy nights at the beach of our childhood, and the land (and those running it) now gripped by an unprecedented natural disaster showing no signs of stopping anytime soon.
Speaking of seeing the country that "taught me almost everything I know," Lawson reads:
"[This is about] what I saw when I opened up the morning news. My heart stopped for a second and my throat became too tight, her name was in the headlines, she didn't look alright."
"She looked unrecognisable, I'd never seen those skies. That's not the place I grew up in, that's not what I remember. Bushfires never started up so early as September."