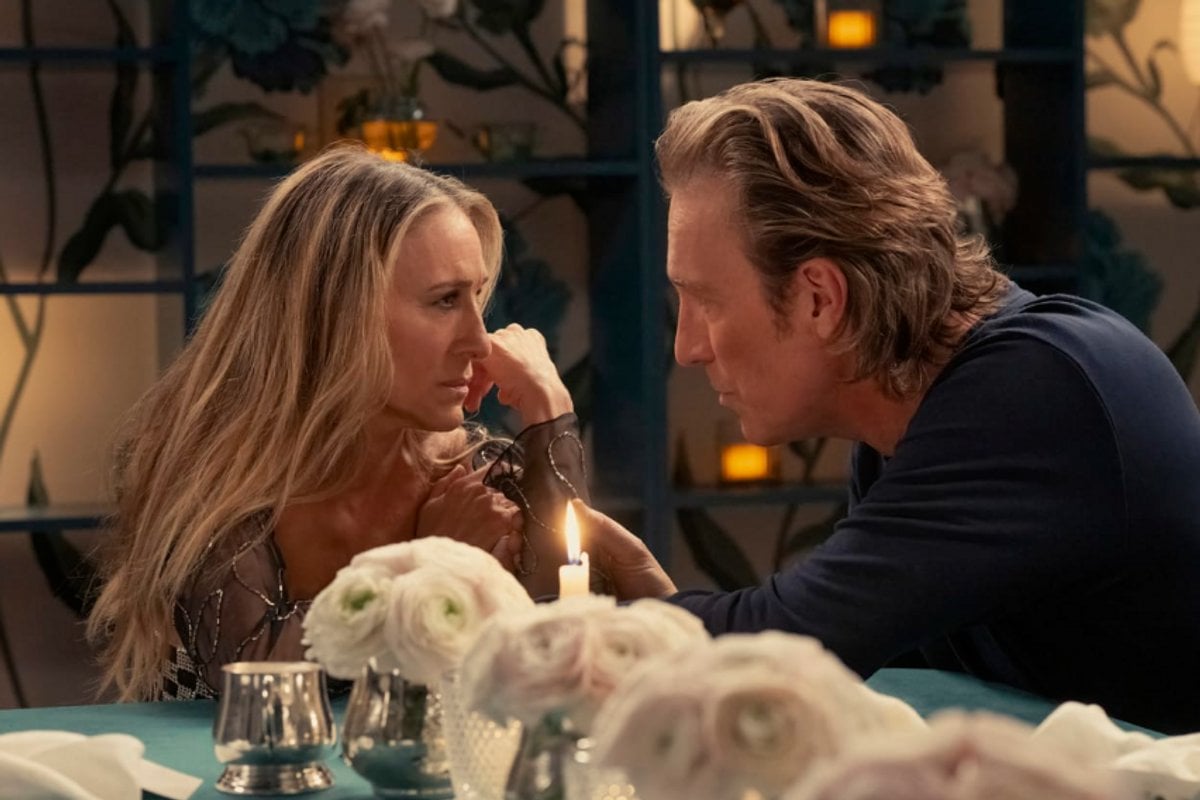 After a season full of approximately 17 too many side characters, appalling standup comedy, and absurdly frivolous spending during a cost-of-living crisis, the finale of And Just Like That aired on Thursday night.
Did we get closure? Not really, no.
Did we get a cliffhanger? Eh... not particularly.
Did we get lovely clothes and a pleasant soundtrack? Absolutely.
In order to recap the final episode of season two of the Binge series, I need to make one thing clear: No one loves this show more than its own writer and creator, Michael Patrick King. That's not to say people don't love it. They really do. But King believes Sex and the City – and by extension, And Just Like That – is a little like War and Peace. Or Hamilton. Or precisely anything written by Jane Austen. He would like us to analyse every detail of the show because it's all very clever and symbolic. Which I'm sure it is. But I also just want to watch it while simultaneously being on my phone and yelling "WAIT, WHO'S THAT?" at my screen every few minutes.
The final episode is named after 'The Last Supper', and yes there are 12 people in attendance. But I refuse to believe there are further layers around who represents Judas and whether Carrie is meant to be Jesus because frankly that's not why any of us are here.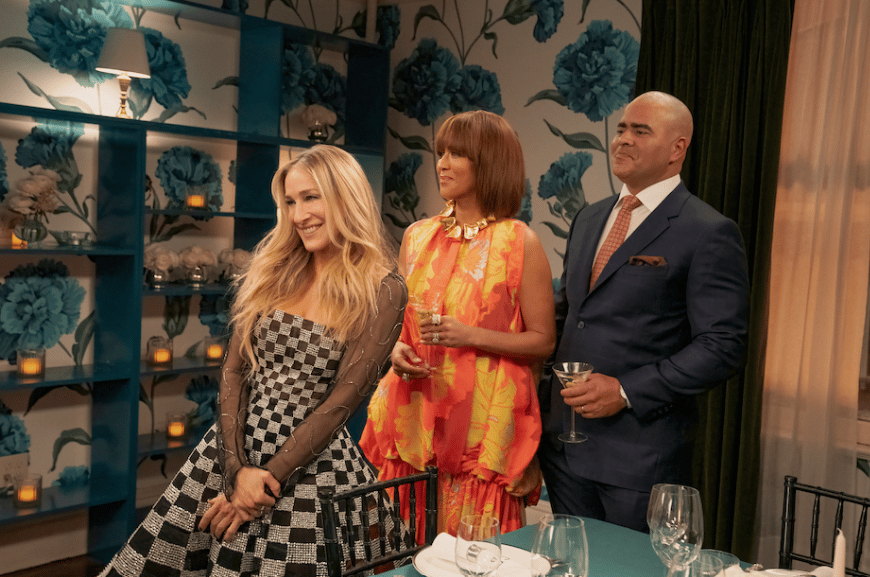 I'm mostly here for Carrie's dress. Image: Binge/HBO.
Let's start at the beginning.
We open with Carrie on the phone to Aidan, but I don't give a single s**t because moments later, Samantha calls.
Everyone. Shut. Up. And. Don't. Move.
She's in a car and explains her flight from London has been delayed by three hours. She'd been planning to surprise Carrie at her Last Supper but now she's going to miss it, which is awfully convenient given Kim Cattrall and Sarah Jessica Parker can't physically, spiritually, or perhaps legally be in the same room.
The scene has clearly been filmed separately so they don't have to speak, and Cattrall deserves an Emmy for this acting performance. You'd almost believe she was Samantha and really did want to come to Carrie's fancy dinner.
All in all, Samantha Jones is on screen for 74 seconds and this woman is a genius. Let us all learn that creating chaos in the workplace always leads to less work and better pay.
Meanwhile, Harry wakes a very hungover Charlotte to tell her Anthony is here to talk about whether he should lose his ass virginity.
I'm about to smile to myself about how Charlotte and Anthony's friendship is one of my favourite unexpected storylines of this season, when Harry starts losing it.