Alexander Skarsgard has sparked a social media frenzy by walking the red carpet with a lot less hair than usual. His new look could best be described as "male pattern baldness" – nothing at the top, a bit at the sides. USA Today has speculated that he's partially shaved his head for a role he's currently shooting in The Hummingbird Project.
Still, it's been enough to draw gasps from his fans.
"WTFFF Alexander Skarsgard better win a damn Oscar for whatever this movie is," tweeted Joy.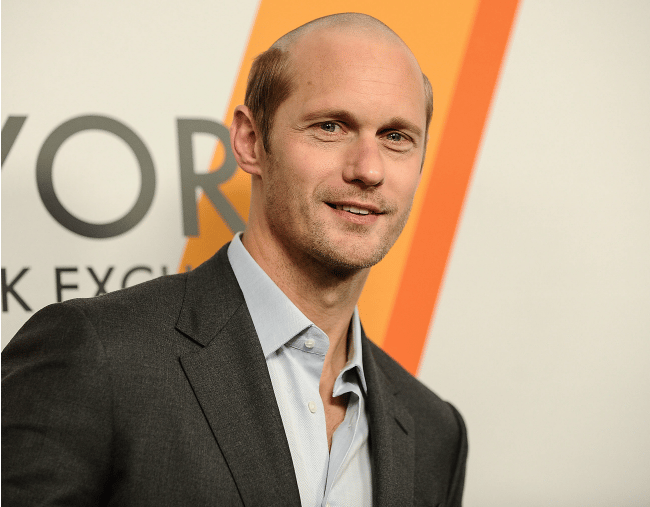 For many people, it comes as a shock to see what is essentially typical male hair loss on a Hollywood actor. Its presence in the media is far and few between.
And yet, research shows that 30 per cent of white men will experience hair loss by the age of 30, rising to 80 per cent by the age of 70. But what many women aren't aware of is just how deeply unsettled men can feel when they start to go bald.
US hair loss expert Dr David Kingsley tells HuffPo going bald can have a devastating impact on men. "A lot of men are suicidal," he says.
Worldwide, people spend around $3 billion annually trying to halt or reverse hair loss. A CHOICE study found clinics were charging anywhere from $3000 for up to a year of treatment.
Prescription medication costs upwards of $200 annually. Wigs can run into the thousands.
On online forums like HairLossTalk, men open up about their feelings about going bald. They talk about how much they hate anyone running their fingers through their hair, or having to try on clothes in fitting rooms with lots of mirrors and bright lights.
A huge fear is being less attractive to women.
"I remember a girl telling me that she didn't mind my hair loss but if I lost too much more then she could never sleep with me because she could never 'do' a bald guy," one man posted.
"If I don't respond to treatment, I'll give up on romantic relationships out of respect to myself and the girls," another added. "No one deserves a balding, ugly, old-looking guy."
"I have gone from a life of getting checked out by young girls all the time to a life where, even if I simply look in their direction, I am an old creep," wrote a third. "I can see it in their eyes."