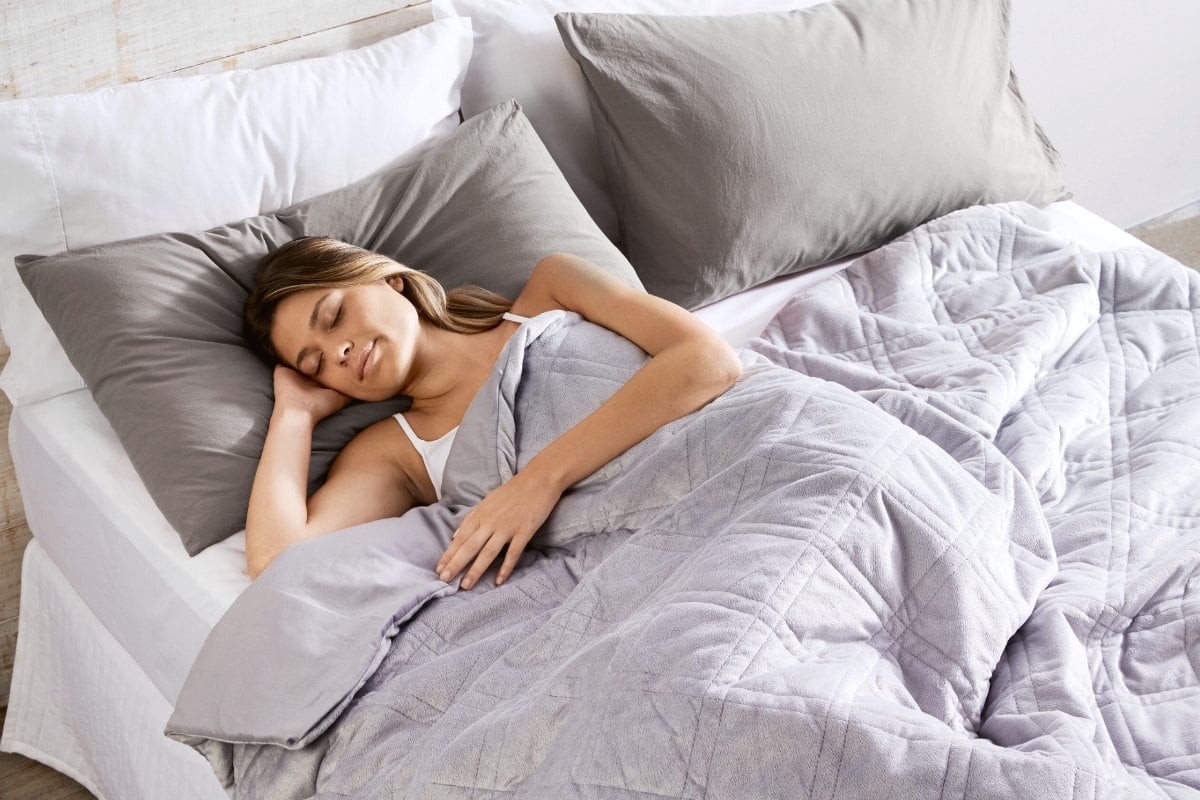 The good folks at ALDI are selling $90 weighted blankets as part of their Wednesday Special Buys and well, there's no better time to jump on the wellness trend.
ALDI has two options to choose from: a 6.8kg (for body weights 55kg to 80kg) and a 9kg blanket (for body weights over 80kg). They're both roughly the size of a single bed doona, measuring 1.22m by 1.98m. And while $90 ($89.99 to be specific) may seem like a lot to spend on a blanket, it's cheaper than other models on the market which retail for well over the $100 mark. Some popular options even cost up to $300 and over.
A guide on how to talk to people with anxiety. Post continues below.
Weighted blankets have been praised for their calming effects on adults and children alike. It works via the hundreds of glass beads which fill the inside of the blanket; the pressure of the weighted blanket is believed to reduce the effects of insomnia, stress and anxiety. They're kind of like a hug in doona form.
A randomised control trial published in Pediatrics – the official journal of the American Academy of Pediatrics – also shared some positive-ish insights. The study assessed the effectiveness of a weighted-blanket in treating severe sleep problems in children with autism spectrum disorder and found that while the blanket didn't exactly increase sleep time or help the children significantly fall asleep faster or wake less often, both the parents and kids favoured sleeping with a weighted blanket.
Anecdotally, however, it seems like everyone and their mum (and child, aunt, niece etc.) are raving about the calming effects of their weighted blankets and we're getting a bit of FOMO.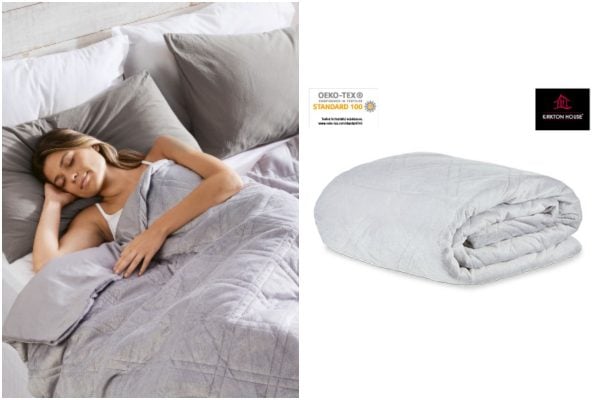 To further boost the quality of your zzzs, ALDI is also selling pure mulberry silk pillowcase and eye mask sets for $39.99. Silk pillowcases are great for reducing frizz-causing friction so you'll wake up with great hair every morning, while the eye mask blocks out stray light which can hamper deep sleep. Plus, sleeping in silk feels pretty damn fancy so it pretty makes for an automatic life upgrade.