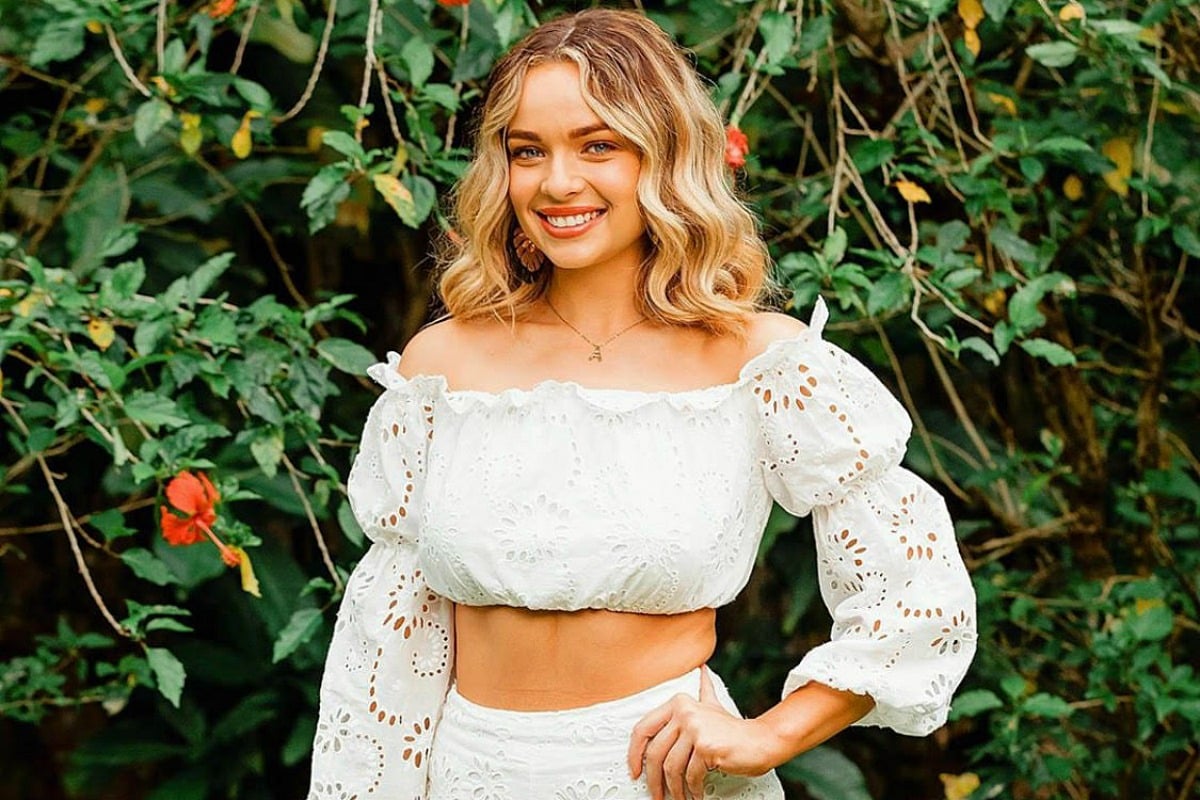 She may be self-isolating alone in this strange new COVID-19 world, but Abbie Chatfield's days are filled with sifting through the mountains of messages, secrets and confessions women from around Australia send her on a weekly basis.
The host of the It's A Lot with Abbie Chatfield podcast, and star of the upcoming season of Bachelor in Paradise, has built up a legion of followers via her Instagram and Facebook accounts, by encouraging women to share their deepest and darkest thoughts with her via her Tea Tuesdays Q&A sessions, which is now its own YouTube channel.
"I am starting to struggle a little bit this week with self-isolation," she told Mamamia's The Spill podcast. "It's weird, I miss just going and having a coffee in a cafe. But I've been really lucky my life has not changed too much because I was already working from home.
"I do Tea Tuesdays and I've noticed that since quarantine started, people's craziest stories have started to come out and there is always one big trend when it comes to what women want to share with me. Whether I ask about bad dating stories, strangest interactions with a guy or something like 'what are you most ashamed of'? There will be so many stories from women about the fact they hate their bodies.
"It's heartbreaking and a recurring theme. It's also upsetting because obviously these women are posting these thoughts to me because they don't always feel comfortable talking to their friends about it.
"During The Bachelor, and look even now, with all the Daily Mail articles I have been body-shamed quite a bit. I've always been very uncomfortable in my body, as I know a lot of people are. I do get told that I'm ugly, or that I'm fat. That one comes up a lot. But you have to fake it until you make it.
Listen to Abbie Chatfield talk about life in quarantine, building a community of women and filming Bachelor in Paradise on The Spill. 
"I've actually been doing a lot of Instagram lives so I can talk to my followers during quarantine. I'm doing one this Wednesday night for Shopback. I'm wearing a beret and we're doing a Pictionary game. I'm actually really scared that people will not know what I'm trying to draw, I'm going to do a practice run with friends first I think. But it will be fun, I'll have some wine, " she laughed. "These Instagram lives are my socialising for the week."
During and after her appearance on the 2019 season of The Bachelor, in which she was named runner up after Bachelor Matt Agnew chose Chelsie McLeod, Abbie experienced a torrent of abuse from viewers of the show to the extent that she had to think twice about appearing on Bachelor in Paradise.
"I spoke to producers and the team at Warner Brothers about it and they have been very supportive of me," Abbie told The Spill podcast. "This might be the wrong way to think about it but I just thought to myself, 'what could be worse than what I already went through?'