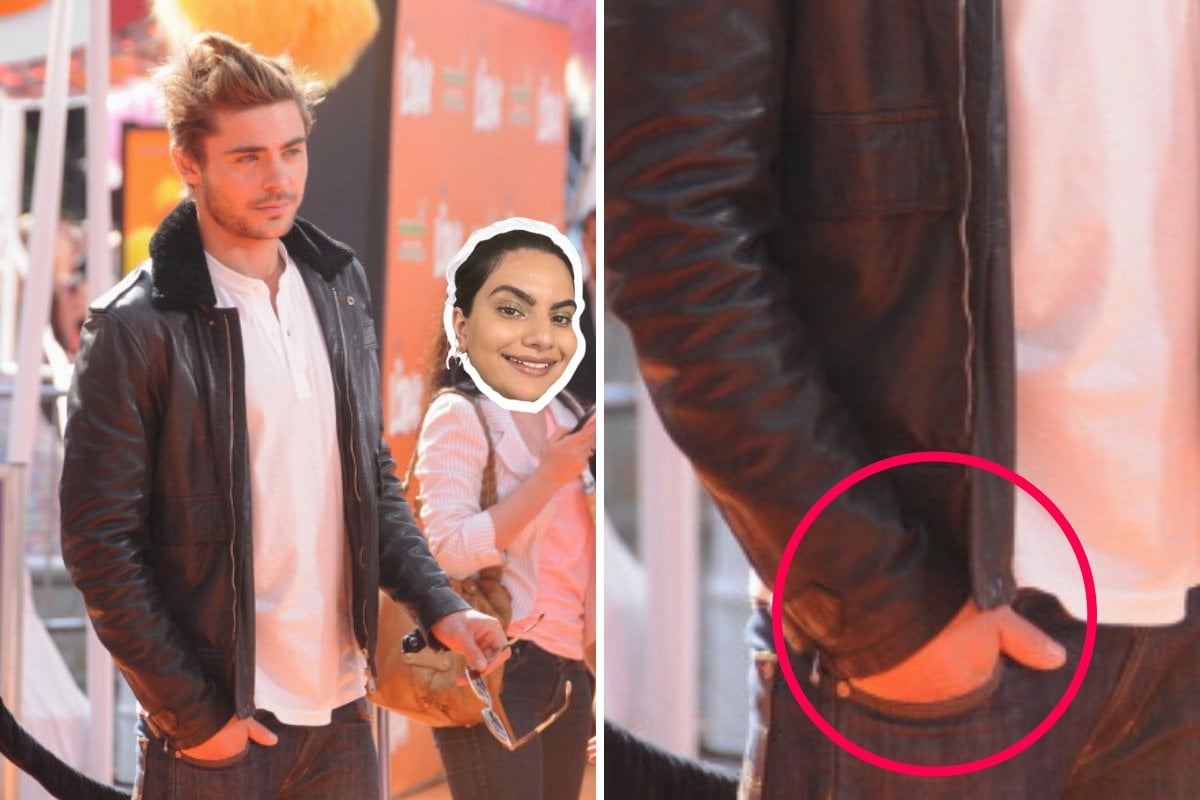 It's 2012 and 24-year-old Zac Efron AKA the love of my life is at a movie premiere promoting his film The Lorax where he stars as 12-year-old Ted.
If you were born between 1990-2003, you would've definitely had a major crush on Zac Efron at some point. And by major, I mean you knew that this was the man who will one day fall in love with you. 
2012 Zac Efron was peak Zac Efron. At the children's movie premiere he's wearing jeans so tight that I'm pretty sure they might cut off his blood circulation. He's rocking the basic white T with a black leather jacket and Aviator sunnies like he just got back from spending a weekend away with Tom Cruise. Super hot. 
Here's where it all goes downhill for him. Zac is a cool guy, so he needs to do his cool guy poses - which as we all know is 'the hands in pockets.' 
Listen to Em talk about Zac Efron's condom incident on Lowbrow podcast. Post continues below.
As an expert in Zac Efron-ess I could tell that he wasn't 100 per cent happy with the way he was nailing his poses. I'm guessing because his jeans are so tight, he had to empty his pockets so that his manly hands could fit in them nicely to continue the posing sequence. 
He runs over to the other side of the red carpet to hand over what was in his pockets to who I'm guessing are the luckiest ushers in the world. Holding something from Zac Efron's pockets is definitely the coolest thing that would have ever happened to them. As he takes his hand out of his pocket, something else falls out onto the ground. It was a condom. 
ZAC EFRON DROPPED A CONDOM AT A CHILDREN'S MOVIE PREMIERE. 
And it changed my life. 
When this happened, I was 14 and on my school bus watching YouTube videos on my iPod touch. A video of Zac Efron was trending so of course I was going to watch what my future husband is up to. 
According to my own eyes and ingrained core memory, the drop happened in slow motion. 
A little tiny silver square (actually if it's Zac Efron, it's probably an above average silver square), reflecting the light from the press cameras gently flutters down onto the floor before he swiftly bends down to grab it and shove it back into his pocket.