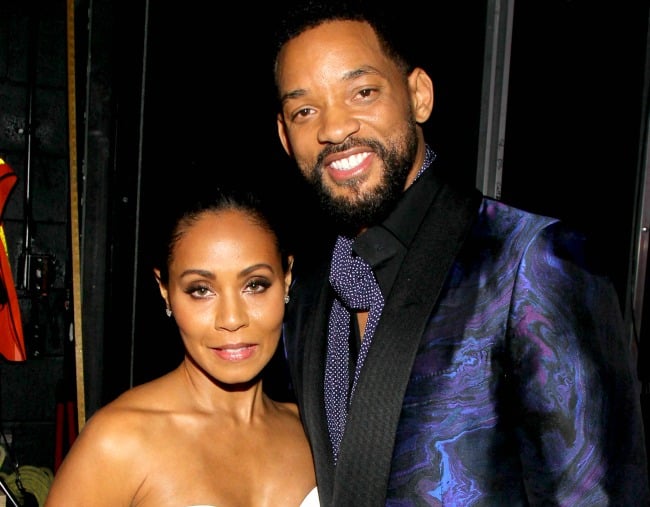 1. Jada Pinkett Smith speaks about dating Will Smith when he was still married to his first wife.

Jada Pinkett Smith, 46, and husband Will Smith, 49, have been married for 20 years. However before that, Will was married to Sheree Fletcher. While together, the pair had one child – son Trey Fletcher.
Now, Jada has discussed her regret about dating her now-husband while he was married to another woman.
Inviting Sheree, 50, onto her Facebook talk show Red Table Talk, the two women had an honest conversation about their blended family and what happened when Will and Jada first started dating.
Now laughing about that once-awkward situation, Sheree recounted a rather 'intense' phone call.
"I called back and said 'b*itch, you living in a house I picked out,' you said, 'it's my house now'," she said.
Explaining their past, Jada was quick to admit that she was wrong: "Because I did not understand marriage, I did not understand divorce, I probably should have fell back," she said, with Sheree jokingly replying with, "You think?"
Their conversation then turned emotional when they started speaking about their experience co-parenting Trey, who was three at the time of the divorce.
"Trey comes home and I said, 'How did you like Miss Jada?' He said, 'I really liked her, Mummy,' " she said.
"Thank you for loving my baby."
Jada said that she looked up to Sheree as her parenting role model.
"I thought it was important to have that conversation because she was my entry point to motherhood. I was co-mothering with her," replied Jada."We came from broken homes. We didn't have a blueprint. We just had an idea. This is what we think we want. This is what we want to try to do for Trey."
You can watch the entire chat by clicking the link.
2. Literally just a list of every single celebrity who broke the only rule of the 2018 MET Gala.
Because she can, Vogue editor Anna Wintour insists there are no selfies to be taken at the MET Gala - and of course, the Kardashians ignored her.
But Kim Kardashian, Kendall and Kylie Jenner weren't the only ones taking selfies at the "world's biggest party", the list of rule breakers included:
George and Amal Clooney
Miley Cyrus
Stella McCartney
Salma Hayek
Lana Del Rey
Bella Hadid
Sarah Jessica Parker
Ariana Grande
Jennifer Lopez and Ale Rodriguez
Naomi Watts
Pharrell Williams...
And these are just the celebs we've seen posting theirs on social media. Might be about time to rethink that rule, Anna.
For all the Met Gala looks we fell in love with, watch our Best Dressed compilation, sparkles, crowns and all:
3. We need to talk about Roxy Jacenko's $1000 crocs. Immediately.

It is universally acknowledged that crocs are not fashion.
Well... we thought so until high-end fashuuun brand Balenciaga decided to make a platform-bearing, Barbie-pink version (complete with embellished attachments), and now they're adorning Roxy Jacenko's feet and really don't know how to feel about it.
Like at all.
Oh and they retail for $1195.
Just let that sink in for a little while.
Posting a photo onto Instagram of her recent purchase, fans were divided. Some commented with "Oh god nooooooooooo," while other's were ready to jump on the trend too.
Each to their own...
4. For posting a Facebook status, Dwayne 'The Rock' Johnson will be paid $1 million.
Okay, we know (male) actors get paid a lot to star in blockbuster movies, but a reported clause in Dwayne "The Rock" Johnson's latest contract will make Instagram influencers' eyes water.
Variety reports that of the US$22 million (AU$30 million) the 46-year-old will be paid for his upcoming film Red Notice, US$1 million (AU$1.3 million) is a "social media fee".
Yep, Dwayne Johnson is getting paid a million bucks to spruik his next film on Instagram and Facebook - which at first seems excessive. But then his latest Instagram post did rack up two million likes in less than 24 hours.
Okay, no. Still seems excessive.
5. Michael Turnbull just weighed in on the Ali/Grant cheating saga.
If you were wondering how Bachelor in Paradise's resident wallflower - Michael Turnbull - felt about the whole Ali and Grant situation was, you can rest easy, because we now know.
The soccer player turned real estate agent, turned Bachelorette runner-up, turned BIP cast member declared his allegiance in a very blatent Instagram stories post.
Up until this, we didn't even realise the were that close.
You can get the whole story, emojis and all, right over here.