Dwayne "The Rock" Johnson has welcomed a baby girl with his partner Lauren Hashian, and shared some heartfelt advice for fathers.
The actor and singer-songwriter have called their daughter Tiana Gia – a name that has Johnson's friend and co-star Emily Blunt's seal of approval.
"Blessed and proud to bring another strong girl into this world," the 45-year-old captioned an image of him holding Tiana to his chest on Instagram on Tuesday.
"Tiana Gia Johnson came into this world like a force of nature and Mama [Lauren Hashian] laboured and delivered like a true rockstar."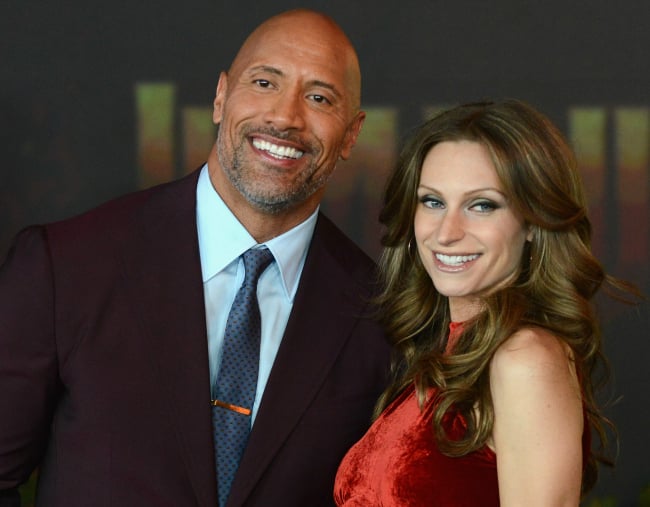 The little girl joins two-year-old sister Jasmine Lia, and 16-year-old Simone Alexandra, whose mother is Johnson's ex-wife Dany Garcia.
Her parents had already picked out her name before her arrival, and unlike many parents, weren't worried about sharing it before she was born.
In an interview with Rolling Stone magazine released this month, Hashian and Johnson shared their thoughts with interviewer Josh Eells.
"We're thinking about Tia. It's simple, it's Polynesian-ish. And I feel like she might come out looking like a Tia," Hashian said. "I mean, she could come out any which way, because we're complete opposites."
Johnson then said they had already shared the name with a few people.
"It was funny – we were having dinner with Emily Blunt, who I'm getting ready to work with [on Disney's Jungle Cruise], and I said, 'What do you think of Tia?' And she went, [pause], 'No one's gonna fuck with a Tia Johnson.'"
In announcing his third daughter's arrival, the former wrestler shared that he had watched her birth, something he encourages other dads to try.
"I was raised and surrounded by strong, loving women all my life, but after participating in baby Tia's delivery, it's hard to express the new level of love, respect and admiration I have for [Lauren Hashian] and all mamas and women out there."
"Word to the wise gentlemen, it's critical to be by your lady's head when she's delivering, being as supportive as you can.. holding hands, holding legs, whatever you can do.
"But, if you really want to understand the single most powerful and primal moment life will ever offer - watch your child being born. It's a life changer and the respect and admiration you have for a woman, will forever be boundless."
Chris Judd talks about what happened in the birth suite. Post continues.

Johnson added that just as with his elder daughters, he vowed to "love, protect, guide and make ya laugh for the rest of my life".
"Your crazy dad has many responsibilities and wears many hats in this big ol' world, but being your dad will always be the one I'm most proud to wear."
"Oh and one more thing.. you're gonna love rollin' in daddy's pick up truck."
Want to win a $100 gift voucher for telling us what you think? Take our short survey now for your chance to win 1 of 3 $100 gift vouchers.