It's a conspiracy. Someone in fashionland is trying to bring Crocs… well, I hesitate to so say "back" because that would imply they were ever "in" – but that's what they're doing.
Behold – Balenciaga Platform Crocs, complete with as many kitschy, brightly-coloured embellishments as they could fit.
The Spanish (now French-owned) luxury brand actually sent at least four models down the catwalk of their Paris fashion show at the weekend in these double-decker Croc monstrosities.
And now we really don't know what to think.
Because didn't we all agree that Crocs are the ugliest shoes ever created? At least that's what Mamamia writer Jessie Stephens concluded when she penned an impassioned wake-up call to the wider population.
"Crocs are too intense. It feels like they're always yelling "look at me", when everyone wants to spend most of their life forgetting they have feet. They do not at all resemble the shape of a foot, instead making all who wear them look like bears. They are too square and too wide and too flat. The fact they have holes suggests to me that the foot inside it needs to be aired out, and that's not a message you want to be sending with your footwear," she wrote.
And yet Balenciaga approached Crocs to create the shoes, called 'Foam', for their show, a senior executive at the footwear company told Elle magazine.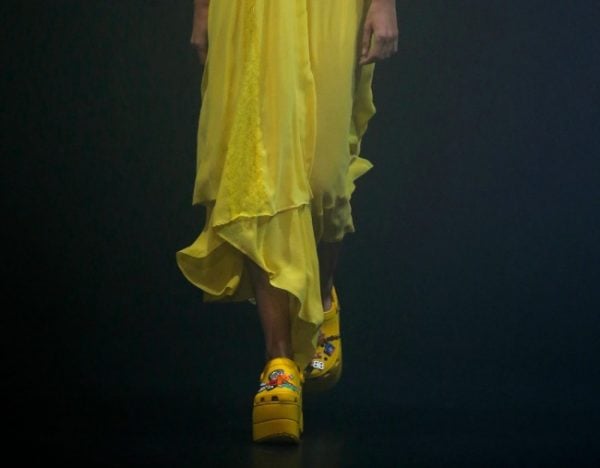 "When Balenciaga approached us, we were intrigued by the opportunity to push the boundaries of our design and moulding capabilities to see what we could create together," Michelle Poole said.
"Working with Balenciaga has been so much fun for our team, and once again demonstrates the relevance of our iconic clog in today's fashion and design world, as well as allowing us to tap into the excitement and energy that comes from unexpected partnerships."
We haven't been able to find the shoes on Balenciaga's online stores just yet, but given the luxury label's shoes start at about $600 we can't see the shoes going for less than a few hundred bucks.
We can think of just a few things we'd rather spend our money on.
Listen: Is this the end of activewear?