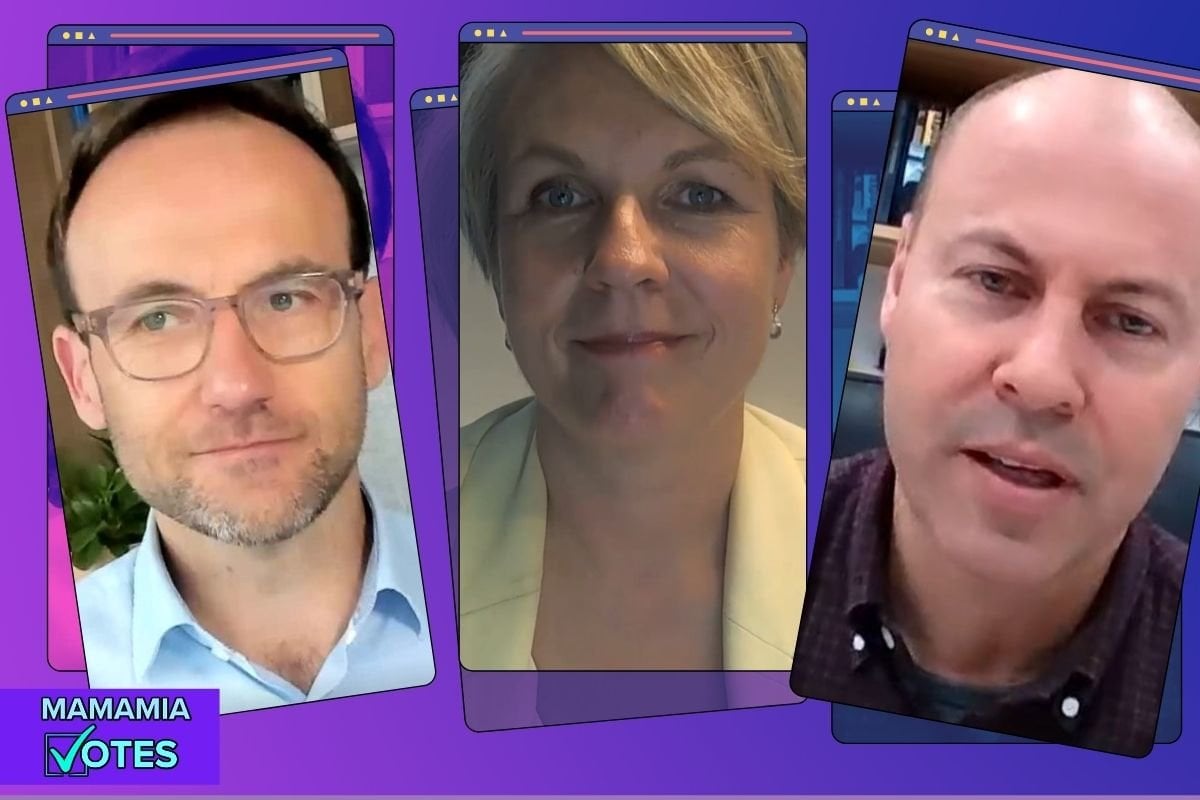 To keep up to date with the federal election campaign as we head to the polls to vote on May 21, visit our election hub page. There you'll find analysis, explainers and all the results of our Mamamia Votes survey.
The 2022 federal election is upon us. 
Pre-polling booths are well and truly open, and millions of Aussies have already cast their vote. 
If you're still feeling confused, conflicted or just haven't bothered to lean into the election chatter just yet - we've got your back. 
I've done you a solid, and spoken to three politicians from the three major parties on your ballot paper. Of course there's plenty of others - there's a bunch of other minor parties, and plenty of independents to choose from. 
Read more: The teal appeal: The rise of independents, and the pros and cons of voting for them.
But I wanted to ask the three most prominent parties - Coalition, Labor and the Greens - the same five questions so we could directly compare their answers. 
Lucky for us, Labor frontbencher and Shadow Minister for Education and Women, Tanya Plibersek, Deputy Leader of the Liberal Party and Treasurer Josh Frydenberg, and Greens Leader Adam Bandt, all allowed me to pick their brains.
Here's exactly what they told me:
1. Do you think your party is doing everything in its power to help Australia save the planet?
Josh Frydenberg: 
"We are certainly doing everything we possibly can to reduce Australia's carbon footprint and to get Australia to net zero emissions by 2050. That has been our agreed commitment, it's a significant one, and we're focusing on doing so with a very detailed plan. The plan involves a technology investment roadmap, where we're investing more than $22 billion and leveraging more than $80 billion off the private sector. And it's everything from microgrids, which is small scale wind and solar in remote communities, to Snowy 2.0, which is effectively a big battery for the east coast of Australia. We're also investing in clean hydrogen, particularly in areas in Australia's regions, whether it's in the Pilbara, whether it's in Bell Bay in Tasmania, the Latrobe Valley in Victoria, the Hunter in New South Wales... and capitalising on a low emission form of new power generation. We've also got carbon capture and storage and a host of other new technologies that Australia is investing in.
"I think we've got a great story to tell, our emissions are down by 20 per cent on what they were in 2005. In comparison, New Zealand's are down by four per cent. Canada is down by one per cent. The average across the OECD -  they're down by seven per cent. We've actually seen around $35 billion of renewable energy invested in Australia in the last few years, that's eight times the pace of the rest of the world on average. And so we've got a story to tell about the technologies that we're investing in, we've got a story to tell about our target, and our commitment. And I think we've got a story to tell about how it's creating jobs and lowering electricity prices."